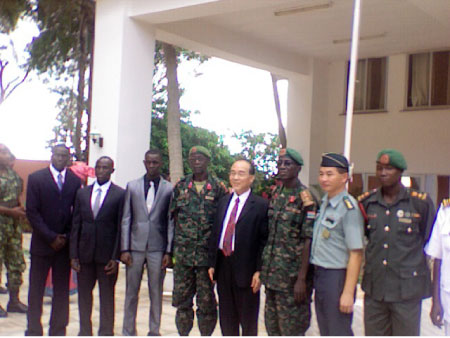 Three officers of the Gambia Armed Forces will leave Banjul today for the Republic of China on Taiwan for further studies.
2nd Lieutenants Sang Isaac Jammeh, Ousman Jassey and Ansumana Gibba were previously in Taiwan for a four-year military studies.
They graduated in a Military Academy in Taiwan just two weeks ago and returned to the country only to be given another scholarship to further their studies for another six months.
At a farewell ceremony held yesterday at the Taiwanese embassy in Bakau, the students were once again advised by their superiors and the chief Taiwanese diplomat in Banjul to live up to expectations.
Speaking on the occasion, H.E. Samuel Chen, Taiwanese ambassador to The Gambia, congratulated the students for their achievements.
According to him, the gesture has formed part of the Taiwan Defence Scholarship Programme to help develop the human resource, cultivate military leadership and promote the military cooperation and ties between Taiwan and its allies including The Gambia.
He hailed the cordial ties that exist between the two countries, adding that the recipients recently graduated in a Military Academy in Taiwan attended by President Jammeh.
Deputizing the newly promoted Chief of Defence Staff Lt. General Ousman Badjie, the chief engineering officer at defence headquarters, Col. Paul Arthur Gomez, urged the officers to always remain as good ambassadors of The Gambia while in Taiwan.
He also thanked the government and people of Taiwan for their continued support to the Gambia Armed Forces.
"Coming back to the officers, I hope that they will be better informed when they come back and to share the knowledge gained from the studies with others," he said.
For their part, all the officers expressed gratitude for the opportunity given to them and promised to make the best use of the gesture accorded them.
Meanwhile, 2nd Lieutenant Jammeh will be attending the Army Field Artillery and Missile School in Taiwan, for an officer basic course.
2nd Lieutenant Jassey will be going to Army Armor School (Sinzhu, Taiwan) to pursue a basic officer course while 2nd Lieutenant Gibba will be attending the Navy Mechanic Engineering School in Kaoshung, Taiwan, also for a basic officer course.
Currently, there are eight Gambian cadets studying in Taiwan, with three in the Army Academy, one at the Naval Academy and two in the Air Force Academy.
Two Gambian officers are also studying commanding general staff course at the National Defence University.
Col. Wally, the defence attaché at the Taiwanese embassy, chaired the ceremony attended by family members of the officers.
Read Other Articles In Article (Archive)