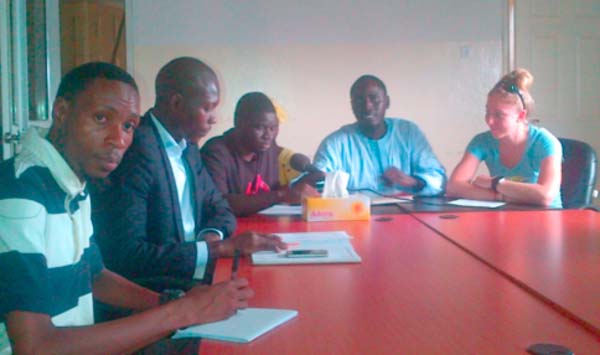 The 5th Edition of the annual Love4Gambia Run will today, 29 September 2015 get underway at Koina.
The 424-kilometer run organised by Nova Scotia Gambia Association (NSGA), which will last for 17 days, will end in Banjul.
Abdou Rahman Kanteh, national programme coordinator of the NSGA, speaking at a press conference held at the GTUCCU conference hall, said the run is a fund-raising event, adding that funds raised from it will be used to support NSGA programmes in schools and communities as well as NSGA staff to be able to work effectively in schools and communities on all kinds of diseases that fall within the peer health education programme.
"Loving your country and wishing all the best for your country is by doing something for it," he added.
"Gambian people need healthier lives and as such we need to have volunteers who will sacrifice to do activities that will attract the attention of the public to come and support to achieve this."
They have seen wonderful results coming out of the run, he stated, saying they have raised thousands of dollars since the initiation of the run in 2011, which had all gone into supporting NSGA programmes in The Gambia, he said further.
He described the run as a huge and important fund-raising activity for NSGA, saying they have already raised close to seven thousand Canadian dollars.
"Juliane's time here is very important as she has sacrificed to use her time, energy and resources to come to The Gambia to run and raise funds," he also said.
Concluding, he thanked their Canadian Board of Directors for their support to Juliane, as well as other partners.
Pa Modou Sarr, coordinator of Love4Gambia Run, explained how the run was initiated and who initiated it.
This years' team of runners will comprise Juliane Lacroix - key runner from Canada, Yankuba A. Bojang and one Modou, he said.
He also said they have no doubt "Juliane will excel in the run and beyond".
The run has a lot of attraction in Canada and they would want the same to happen in The Gambia because whatever funds they generate from it will be ploughed back "to our peer health education programmes in The Gambia", Sarr added.
From 2011 to date things have been revolving for the better as they have committed themselves to achieving certain things, Sarr said.
Juliane Lacroix, the lead runner from Canada, for her part, said she is excited to be in The Gambia to take part in the run.
Juliane, who said she has been a teacher in Canada for 4 years, added that she had been running for 6 years and had participated in a few marathons but had never run the distance of today's event.
It will be quite a big challenge for her, especially in the heat but she likes challenges, she said, while describing the run as probably the most challenging thing she would be doing in her life.
She is prepared for the run and have got tips from the previous runners, she also said.
Yankuba A. Bojang, a runner, highlighted his last years' experience saying he ran about 390km but his aim this year is to complete the 424km run.  
Read Other Articles In Article (Archive)