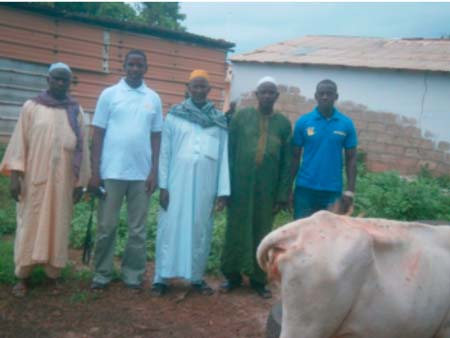 International Humanitarian Help Foundation based in the Netherlands, in collaboration with Cemiyatul Hyre Relief Organization (CHRO) in The Gambia, last Thursday, Tobaski day, donated fifty-nine cows to various communities in The Gambia including Brikama, Tallinding and other areas in Fulladu East, Central River Region.
The cows were all slaughtered and the meat distributed to people in the said areas.
The slaughtering was witnessed by a team of the donors from the Netherlands to see for themselves how the distribution was being done in The Gambia.
For his part, the secretary general of Cemiyatul Hyre Relief Organization in The Gambia (CHRO), Alagie Jawo, thanked the Almighty Allah for making their dream a reality by creating a link of partnership between them and people of the Netherlands.
According to Jawo, such gesture by the Netherlands foundation has become an annual activity that is being carried out by the CHRO with the support of IHH-Netherlands to help needy people during the Tobaski feast.
"This year IHH-Netherlands has provided us with 59 cows for the needy people of The Gambia to enjoy the feast," he added.
The organization is involved in many other activities in The Gambia, such as helping needy people during Ramadan, supporting orphanage, and building of local wells, he said, adding that Gambians would continue to pray for the organisation to invest more in the people of the country.
He said beneficiaries of this year's package were mainly in Upper Fulladu west, Central River Region, and greater Banjul area.
The cows were distributed among two communities, he noted, saying the partnership would continue to go from strength to strength.
He assured the donors that CHRO will live up to expectations in delivering the gifts to needy people in The Gambia.
In his remark at the presentation of the cows, Mr Najib Hania, leader of the delegation from Holland, said they would continue to remain committed to CHRO to ensure animals provided for needy Gambians reach them accordingly.
"I feel very glad to come all the way from the Netherlands to support needy Muslims in The Gambia," he added.
The donor team leader said he felt very honored and motivated to carry out such activities or project in The Gambia.
As Muslims, he noted, there is need to show love and care for one another and the best way to do that is through supporting the less privileged, those who could not afford to buy a ram.
Therefore, considering the importance and blessing that is in the feast, his organization deemed it fitting to give support to needy Muslims in The Gambia.
"I am very delighted to come to The Gambia and invest in needy people, as the people of The Gambia are very good," he said.
He also said he was impressed about The Gambia and assured all and sundry that his organization would continue to support people of the country with more gifts.
Read Other Articles In Article (Archive)