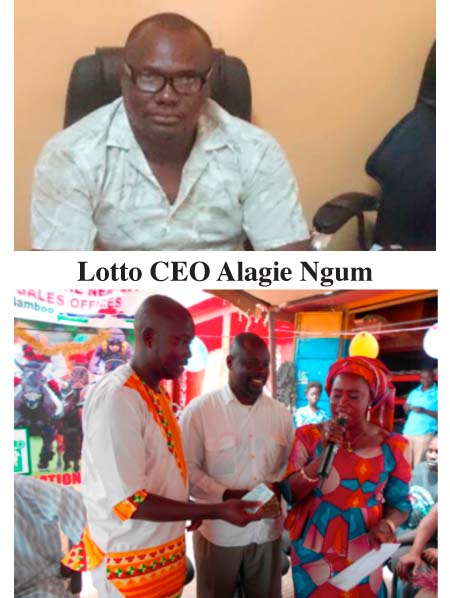 Lotto Gaming Gambia Limited (LGG) has paid a total of D3,600,000 to its lucky jackpot winners within 59 days of the resumption of the company, the senior marketing manager of the company has said.

The government of former president Yahya Jammeh in March 2015 spontaneously banned all forms of gambling in The Gambia. Operators of casinos, lotteries and other gambling centres were suddenly ordered to cease operation without any prior notice.
As part of its efforts to undo some of the rash executive directives of Mr Jammeh, the new government has withdrawn the ban order and called on gambling centres to resume operation.
Lotto company resumed in full force and with renewed impetus.
At the weekend, the company held a presentation ceremony at its head office at Westfield to give the three latest winners of its jackpot their money, a total of D150,000.
The three winners were Femi Victor, who received D50,000; Mohammed Touray, D50,000, and Matarr Badji, D50,000.
Two other people won the football stakes: Babucarr Ceesay won D38,150 and Mohammed Faal, D20,700.
Two weeks ago, Lotto paid a jackpot of D220,000 to various lucky winners.
Speaking at the presentation ceremony, Madam Anty Mbinko Jammeh, senior marketing manager of the company, applauded the government of President Adama Barrow for re-opening all the companies closed by his predecessor, Yahya Jammeh.
"I particularly thank him and his government for re-opening Lotto Gaming Gambia Limited as the company is out to complement the government's efforts in addressing poverty and youth unemployment in the country," she said.
"We at LGG, under our able chief executive officer, Alagie Ngum, are delighted with Adama Barrow's foresight and his stance to support businesses in this country."
The senior marketing manager said the D3.6 million paid to LGG jackpot winners in 59 days "is a big achievement not only for the company but the nation at large".
Madam Jammeh said they have special offer for their customers: customers would now have bonuses of three and four so that more and more customers can stand a chance of winning.
She added that Lotto has an offer of D50,000 jackpot for Mondays, Tuesdays, Wednesdays and Fridays for a period of one month.
Modou L Dibba, a representative of The Gambia government, said the operation of LGG is to complement the government's development agenda by reducing youth unemployment and making the youth more productive.
He said many opportunities could be achieved with a company like Lotto.
Kabir Secka, LGG strategist, and Alagie Sallah both commended the company and its management for creating "a wonderful business venture".
The lucky winners of Lotto jackpot and betting promised to put their moneys into good use for their personal and family development.
The winners vowed to continue patronising Lotto company "as it is the fastest way of transforming anyone's live".
Read Other Articles In Article (Archive)