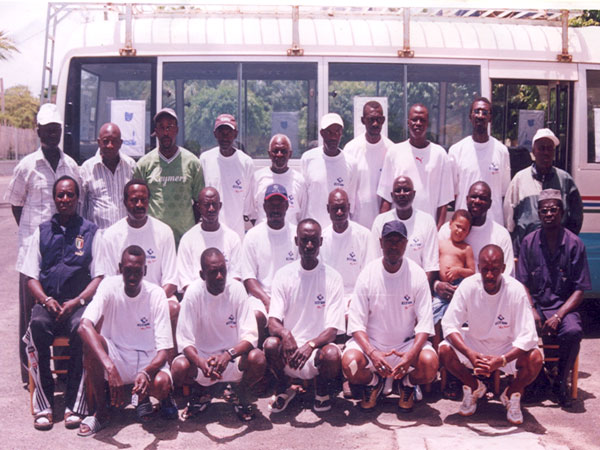 Following the recent sad demise of their President (Kebba Njie 'Master') and Vice-President (Saihou Ceesay) of blessed memory, the Gambia Football Veterans Club met in extra-ordinary session on Sunday September 21 to fill the relevant vacant positions as well as few newly created positions. The full composition of the organization is provided below. They are to complete the current executive term which expires 3 June 2009.
It would be recalled that the Veterans Club was established with the primary objective of promoting football development in The Gambia.
Ways of accomplishing their objective, range from providing material or training support to young players, internal programme support to league teams, and confidence-building on the national teams. In this last regard, it would be of interest to report that few selected Veterans have in the past travelled with our national teams to give management advice and front-line support. One of the leading agenda items of their Sunday meeting, therefore, was to lay down plans for effective contribution in the upcoming qualifiers between Gambia and Senegal. As was reported in the 2nd September edition of this paper, the Gambia Veterans have already made an advance visit to Senegal by way of a football friendly against Senegal Veterans team. During the visit both Senegalese and Gambian former national football stars took the opportunity jointly to address the nation in all sections of the media on the strong family ties between the two countries which we should not allow football to destroy. Mention was made of the match of 11th October in Dakar with prayers and all hopes that the game would be played in a spirit and environment of peace and true sportsmanship. It would be recalled that the Senegalese Veterans also had made a prior visit to Gambia and expressed the same sentiments here.
NEW EXECUTIVE
President               - Amadou Touray
Vice President        -  Alhajie Abdou MC Jallow (also team Captain)
Treasurer                -  Abdoulie 'Star' Jallow
Auditor                   -   Alhajie M.L.Conteh
Secretary General   -   Essa Faye
Asst. Secretary       -   Sankare Jawo
Social Secretary      -   Alhaji Mohammed Lamin
Asst. Social Secretary  -   Pa Modou Lowe
Team Manager         -   Baboucarr Joof
Asst. Manager         -   Dodou Ndure
Kits Manager           -    Aki Goswell
Management and Technical Advisers:
Alhajie Njie 'Biri'; Baboucarr Kah; Sulay Jallow; Lamin Nyang; Kebba Ceesay; Kebba Touray; Kebba Jobe.
Administrative Adviser: Charles Thomas
Read Other Articles In Article (Archive)