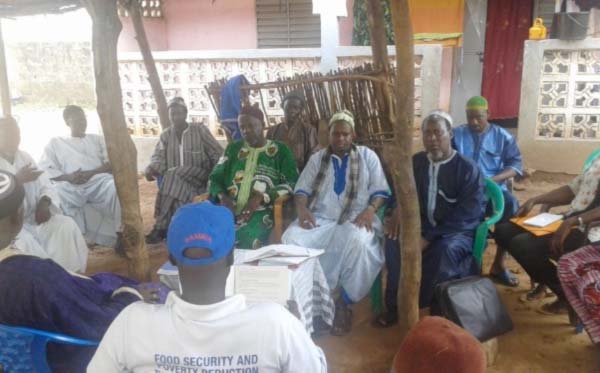 The National Livestock Owners Association (NaLOA) with support from Gambia Livestock Marketing Agency (GLMA) has embarked on a nationwide sensitisation tour to sensitise stakeholders on the forthcoming national livestock show.

The first leg of the meetings was held with district livestock dealers association and district authorities in Kerr Jarga Jobe, Njaba Kunda and Farafenni in North Bank Region.
The meetings discussed among other things the creation of cattle tracts, grazing land and drinking points for cattle.
Ebrima Jallow, president of National Livestock Owners Association, said the meetings discussed the progress and challenges confronting livestock sub-sector, and livestock dealers were also informed of the forthcoming livestock show and the importance of their participation in the show.
He said the participation of more farmers in livestock production would make ram affordable and enhance farmers' capacity and would as well diversify their source of earning.
Mr Jallow also called on the farming community to avoid encroachment of cattle tracts and ensure easy passage of cattle to grazing land.
He hailed NEMA project for funding the recent two-month cattle vaccination campaign against trans-boundary cattle disease, saying the vaccination would improve animal health and productivity.
Ousman Jallow, public relations officer, expressed the need for stakeholders to join their efforts in promoting animal health and welfare.
Ebou Bah, regional chairperson of NBR chapter, called on livestock farmers to join the livestock association.
Chief Alagie Jagne of Central Badibou thanked the National Livestock Owners Association for the foresight in strengthening animal production.
He called on the shepherds and herders to work with district authorities to have easy access to grazing land.
Chief Jagne thanked the livestock association for halting cattle and animal thief in the country.
Demba Jallow of Pallen Fula in Lower Badibou and Dembo Naffie Jaiteh of Njaba Kunda called on the national executive to strengthen public awareness on the importance of issuing authentic animal permit and ensure that it is easily available at all times.
Amadou Jallow, chairperson of Central Badibou Livestock Dealers Association, assured of their unflinching support to boost animal health and promote transparency and accountability of resources.
Read Other Articles In Article (Archive)