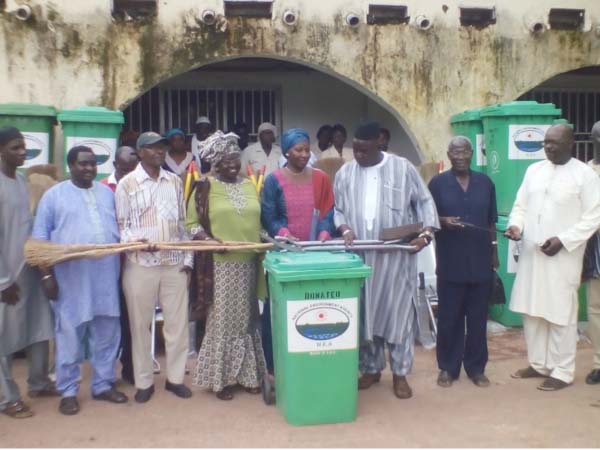 (Thursday September 01, 2016 Issue)

National Environment Agency (NEA) has donated an assortment of cleansing materials to Banjul City Council (BCC) to enhance the council's work in keeping the city clean.
NEA officials said the donation is in response to the call of the Gambian leader, President Yahya Jammeh, to support the implementation of the monthly Operation Clean the Nation by capacitating municipalities and area councils.
Speaking at the presentation ceremony at the premises of BCC, Mayor Abdoulie Bah said with the donation from NEA, the council would further work harder to keep the city clean.
"The president of The Gambia is really concerned about environmental sanitation as again manifested by the ban on plastic bags," he said. "On our part, there are nine wards in BCC and each ward has a personal cleaner to ensure that there is no dumping site in Banjul."
Mayor Bah said his councilors would continue to sensitise there wards about the anti-littering law.
He said: "We have also consulted the Chief Justice and the Ministry of Environment to provide us with a First Class Magistrate to make sure that whosoever is caught dumping in the city is severely dealt with.
"The capital of Rwanda is the cleanest city in Africa; why can't Banjul too achieve that status."
Executive director of NEA, Ndey Sireng Bakurin, said the agency donated the materials to support the people of Banjul as the city celebrates 200th anniversary.
"Clean environment and public health is a major component of staying healthy," she said.
She affirmed that at NEA, they believe in joining hands with institutions like BCC to achieve the mutual goal of environmental sanitation.
The chairman of BCC, Mustapha Bachilly, commended the NEA for its continued support to the BCC.
Read Other Articles In Article (Archive)