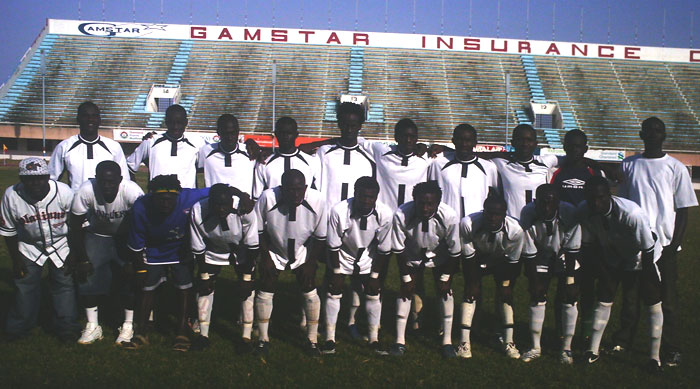 Linguere FC, one of the most experienced and decorated Nawettan teams in Bakau are extending their profound gratitude to Lieutenant General Lang Tombong Tamba in his new position as the President of the Gambia National Olympic Committee.
This is as a result of his tremendous and timely contribution to the development of Linguere F.C and the entire Gambia.
The last year's Nawettan league champion, who has won at least five trophies in the past six years in Bakau Nawettan cannot wait to recognise the valuable contributions made by Lang Tombong Tamba, whom they described as being inspirational in uplifting the team.
According to Lingure players: Sheriff Hydara and Pa Omar Nyass, the commendation was meant to recognise his unwavering support in sports, particularly, in Bakau.
Lieutenant General Tamba's new position, the duo noted is well deserved, putting into consideration the numerous successes he registered and continues to register towards the development of sports in the country.
According to him, his GNOC's presidency did not come as a surprise to the entire Linguere football.
Tamba who is recently being promoted to the rank of Lieutnant General was unanimously elected as the GNOC's President, which was confirmed at a special General Assembly of the GNOC on Saturday 6th June 2009, a position he would run for the next four years.
The Chief of Defence Staff of the Gambia National Armed Forces, who also doubles as the President of the National Inter-department Sports Association, according to the duo, have played a pivotal role in helping Armed Forces, secured their first GFA division one league title in 2005.
In a separate development, Linguere FC the last year's league cup winners in Bakau Nawettan are preparing for the super cup final against the knock-out champion, Ron Mango as part of the curtain-raiser, which will eventually pave the way for the much-talked about Bakau Nawettan proper when the two sides meet on Sunday at the Bakau Mini Stadium.
Read Other Articles In Article (Archive)