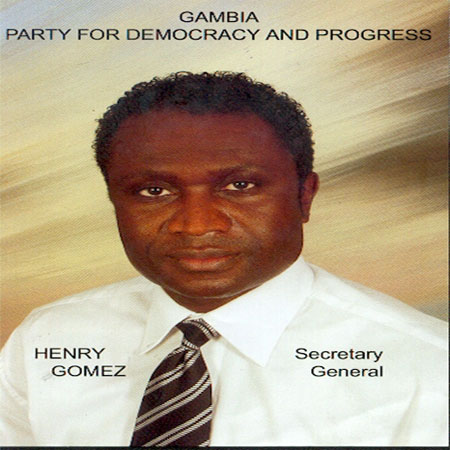 As Muslims in the country celebrate this year's Koriteh feast, the leader of the Gambia People's Democratic Party (GPDP), Henry Gomez has again renewed his call on Gambians to forgive each other and work for the development of the country.
Mr. Gomez, who spoke to this paper in an interview, urged Gambians to discard their political differences and work together in the interest of nation-building, African integration and the world at large, stressing that without it development would be retarded.
According to the GPDP leader, there is nothing like disagreement among Gambians, but rather the lack of communication and tolerance.
"Anywhere there is peace, development moves very fast and everything is possible. So let us as Gambians learn to tolerate each other and never be afraid to admit that we have made a mistake", he said, calling on all Gambians to forget their differences and look forward to the future development of the motherland.
For him, "we should not always assume that when things go wrong, it is always our fault. Let us not stop learning from each other, but we should not also allow education to become a point of pride", he added.
He also grieved for those who have been hard-hit by flood in the country, noting that "blessed are those who mourn for they shall be comforted".
"Let us not be impatient under our own burden. Let us not be unconcerned about the concern of others", he said, adding that blessed are the merciful for they shall receive mercy.
He supplicated God to shower his blessings on us and to forgive us of our wrongs.
"We are either part of the problem or part of the solution", he said.
The GPDP leader also wished President Jammeh, his cabinet and all Gambians a happy, joyous Koriteh feast, and long life.
Read Other Articles In Article (Archive)