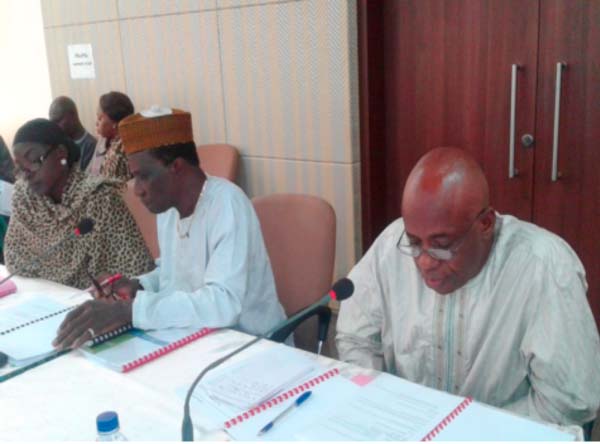 The joint session of the Public Accounts and Public Enterprises committees (PAC/PEC) of the National Assembly Thursday scrutinised the annual report and financial statement of the National Agency for Legal Aid (NALA).
Presenting the report before deputies, the NALA board chairman, Justice A. Bah, said that in a bid to decentralise its services, NALA had so far established two regional offices, at Basse and Farrafenni.
In the initial four years of its operations ending with the year under review 2014, a strong performance had been registered by NALA in its principal mandate of Legal Presentation (as shown by caseload statistics in the report).
In this connection, and despite some logistical and personnel constraints, all cases that were referred to NALA by way of court order "have been duly and effectively treated", she added.
She also said that despite numerical and logistical setbacks, the agency staff had up to date managed and succeeded in covering all regions, districts and key villages in the country, and after 2014, there had been more coverage.
"In the initial year 2014, there has been a recorded 1,321 registered cases of persons who received either advice or assistance; and of course free legal information and education was received by hundreds more," she said.
Justice Bah further told the committees that the board had been carrying out its oversight functions, since her appointment as chairperson in July 2014.
The board had met twice in the 3rd quarter of August and once in the final quarter of that year in November, she said, adding that these meetings were complemented by smaller meetings.
"All of this intensification of meetings was to enable the board catch up on its oversight functions, as indeed there was no board meeting that year prior to my appointment," she stated.
However, Justice Bah added, the board had been able to oversee policy matters and assess ongoing programmes.
"A Memoranda of Understanding have been designed with potential partners in service delivery, more importantly with the Gambia Bar Association and the Female Layers Association of The Gambia," she stated.
She said policies were enunciated/formulated in respect of the idea of community paralegals, and on decentralisation through mobile clinics in all regions and districts, and the state of finance had been monitored and questioned where appropriate.
Read Other Articles In Article (Archive)