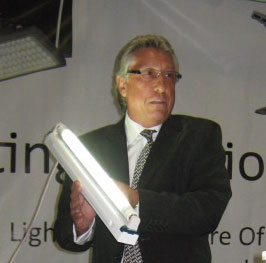 A new lighting product was introduced at a 'breakfast with the press' organized by LED Lighting Solutions Limited yesterday at the Kairaba Beach Hotel.
"LED (Light Emitting Diodes) are solid-state semiconductor devices that convert electrical energy directly into light. The LED High Power Street Light is a revolutionary new product that adapts the energy efficiency of LEDs to the broad application of a walkway and highway illumination. Conventional street lighting is everywhere, and if replaced by the energy efficient LED High Power Street Light, it produces large scale energy savings. This should be good news since the savings on energy and costs are enormous," Mr Malcolm Robertson, Managing Director of LED stated.
It is an automatic switch system. It is environmentally friendly and does not generate heat whatsoever; it does not contain mercury while fluorescent or the so-called energy saving bulbs which contain mercury, contaminate the ground water when disposed wrongly.
It is financially economical. It can be used for both domestic and commercial purposes.
Mr. Malcolm Robertson said that LED is Gambian registered company that champions the LED technology not only in The Gambia, but also in the sub-region. He added that in the next few months they are going to set up a manufacturing company and The Gambia is their base. Mr. Robertson showed us a monthly and yearly chart on LED / Fluorescent / Incandescent cost comparison, e.g. 8watts LED tube costing D260.33 per month and a fluorescent 18watts costing D781.00 per month from NAWEC saving about D520.67 per month.
He also gave Banjul as an example, which he said has 550 streetlights, and when the bulbs are changed to LED lights, will save the Council about 5 million dalasis annually.
A demonstration of the lights was also staged.
When asked about the cost of a normal fluorescent type of LED lights, he estimated it at 30 pounds, but quick to say that LED lights save energy consumption by 70%; maintenance cost is very low since the bulb will not be changed for a minimum of 10 years.
The availability of the normal LED bulbs will soon be accessible to the public as its demand is worldwide.
Read Other Articles In Article (Archive)