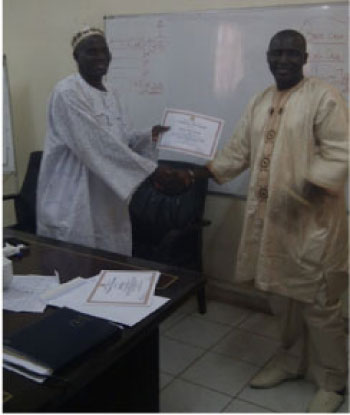 A week-long training on leadership and management skills for senior members of staff at the Ministry of Basic and Secondary Education (MoBSE) last Friday ended at Management Development Institute (MDI) in Kanifing.
The training, which was funded by the Personnel Management Office (PMO), was conducted by the MDI.
Speaking at the closing ceremony of the programme, Alieu K. Jarju, the Deputy Director General of MDI said "it is the duty and responsibility of MDI to go around and look at the capacity gap, and if there is need to come on board, they will do so."
He said this is one of the areas they have the belief and the need to put them on board to exchange ideas.
Mr. Jarju applauded the leadership style at MOBSE, adding that it is an institution where maturity, dedication and reality are often on the table.
"In this changing world, fostered largely by globalisation and increase applications of technology to development, and socio-political process, it is imperative for all countries to develop adequate and efficient human resource capacity to not only deliver services to their citizens, but to compete as equals in the league of nations," said Mr Jarju.
He added that in "our context we must understand that poverty and under-development are structural rather than national condition that can be reversed, through the development of human resources base."
According to him, many factors are set to contribute to poor state and poor economic performances of the West African region.
Noting that experience of many countries across the globe would support the preposition, he said," It's an inevitable fact that the human resource of a nation constitutes the most precious asset of a nation."
According to him, the World Bank report had stated that fast economic growth requires three fundamental factors, such as natural capital, physical capital and human resources capital.
He noted that among them human resource capital is the most precious asset of all as it constitutes 64% of activities.
Jarju further stated that no country can make meaningful growth without developing knowledge, skills and capability of its citizens to manage the available resources.
Also, speaking at the closing ceremony, Baboucarr Bouye, the Permanent Secretary at the MoBSE commended the level of participation and significance of the training programme. He then cited the importance of the feedback he got from the training.
"It is better to prepare people that are going to take leadership role," he emphasised.
Read Other Articles In Article (Archive)