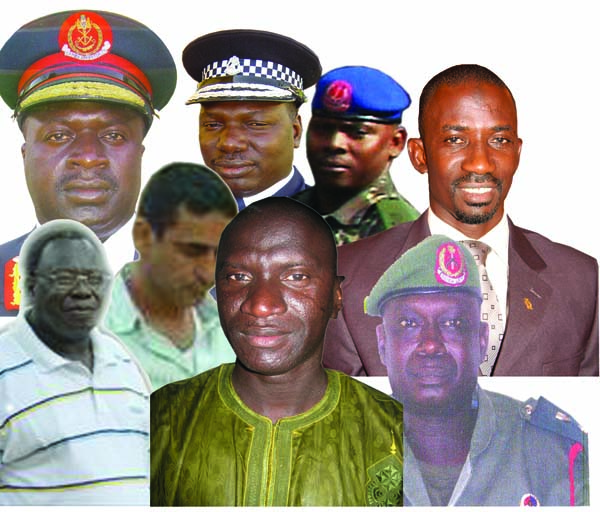 The Supreme Court of the Gambia yesterday adjourned the appeal case involving the jailed former chief of defence staff, Lang Tombong Tamba, and six others.
The other appellants are Brigadier General Omar Bun Mbye, former Director of Operations and Training at GAF, Col. Lamin Bo Badjie, former Chief of the NIA, Modou Gaye, former Deputy IGP, Gibril Ngorr Secka, former Deputy Gambian Ambassador to Guinea Bissau, Lt. Col. Kawsu Camara (alias Bombardier) former Commander of Kanilai Camp and Abdoulie Joof, businessman.
The adjournment was to enable the appellants counsel to respond to some of the grounds of the state's briefs.
When the case was called, the appellants counsel, Sheriff M. Tambedou, applied for his briefs to be adopted, and submitted that he wished to address the court on any issue therein.
At that juncture, one of the judges noticed that the appellants in their briefs failed to respond to some of the grounds of the state's briefs, and he asked the appellants' counsel whether it was his intention to avoid responding to some of the grounds of the state's briefs.
Counsel Tambedou first insisted that he had argued on all the grounds, but later admitted that he did not argue on all, and that the reason why he did not respond was he did not need to argue or respond to those grounds.
 The panel then warned him that this was the last chance he had for his clients, and that it was a serious matter.
Counsel then urged the court to give him time to reply to the respondent's grounds.
The Director of Special Litigation at the Attorney General's Chambers, Daniel O Kulo, also applied to the court to adopt his brief dated 16 July 2012, and filed on the same day as their argument in the case.
 The panel of judges, at that juncture, agreed to give the appellants counsel the opportunity to respond to some of the grounds of the respondent's briefs.
The case was then adjourned till 15 October 2012, for further hearing.
It would be recalled that the appellants were sentenced to death by the High Court in Banjul for treason on 15 July 2010.
They then appealed against the high court verdict before a three-member panel of judges of the Gambia Court of Appeal, which dismissed their appeal in April 2011.
The convicts were first arraigned at the High Court in Banjul on 19 March 2010, and that the trial commenced on 22 March 2010, and lasted for nearly five months.
The indictment stated that the accused persons between January and December 2009 procured arms, ammunition, equipment and mercenaries from Guinea Conakry and other places to stage a coup and overthrow the democratically-elected government of The Gambia.
Read Other Articles In Article (Archive)