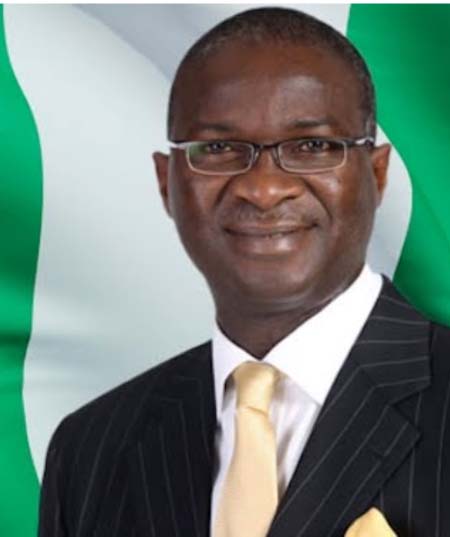 The Governor of the State of Lagos in Nigeria has tasked young people of West Africa to serve as ambassadors in the fight against corruption.
Governor Babatunde Raji Fashola SAN was addressing participants of the 1st edition of Anglophone West Africa Youth Integrity Camp underway in Lagos at a meeting in his office on Wednesday.
According to him, the act of corruption is not just about the systems in the sub-region but the people who manage the systems. Hunger and poverty should not be an excuse for anyone to exercise corruptible practices, the Governor said.
The Lagos state Governor also challenged participants of ECOWAS youth leaders meeting in Nigeria to be contented with whatever they have, resist corruptible practices and live a dignified life.
"Integrity comes with respect and words have value as people will credit you for what you say and do" he added.
He thanked the Independent Corrupt Practices and Other Related Offences Commission (ICPC) of Nigeria and partners for organizing the youth integrity camp.
Governor Fashola also said people in West Africa do not sufficiently interact among themselves and that this kind of events for youth would boost the integration process in the region.
"If we talk to each other very well and do business with one another we can achieve a lot," he said.
He also said stories coming out of the sub-region are not usually pleasant, which include poverty, regional conflicts and election disputes.
Accepting defeat if one knows he or she actually loses is also another form of integrity, he says.
The Governor, who lamented the challenge of integrity in the African continent, especially in West Africa, expressed dismay that stories coming out of the continent and the sub-region in particular are unpalatable.
He declared: "The rhetoric coming out of our continent is not the best at this moment and I think we are all agreed on that. The stories coming out of our continent and our sub-region, the ECOWAS sub-region, is not the very best at this time. It is either a story of poverty or a story of violence or a story of lack of tolerance or a story of our inability to play by the rules that we set.
"That is why, for instance, elections are still acrimonious across our region. Every election must be contested in court."
It is there, Governor Fashola noted, that the connection between the subject of the interaction and the possibilities for a better future could be made.
The Lagos state Governor urged everyone to ponder on the import of the word 'integrity'.
"Have we focused sufficiently on the ordinary and simple meaning of that word? Who has checked the dictionary, as you participate in this regional integration, about the real reason why we are integrating?" he asked.
"For me, the question to ask is; are we dependable? Are Africans dependable people? Are West African people dependable? Are Nigerians, Gambians, Sierra Leoneans and so on dependable people? Can we be relied upon? That is one facet of integrity. And if we cross that hurdle, perhaps we can begin to talk about the value of our comments. Does our word have value? If we make a promise, do we keep it?" he further asked.
He stressed that when circumstances inform and a promise changes, integrity is shown when the one that made such promise "honestly comes forward to notify the other party that the commitment he made yesterday was informed by so and so and now they have altered radically and he would want to change the promise".
Meanwhile, participants at the five-day integrity camp include youth leaders from various sectors such as business, civil society, the media, academia, creative arts and religion.
The camp is being organised by Independent Corrupt Practices and Other Related Offences Commission (ICPC) of Nigeria in partnership with the United Nations Development Programme (UNDP) and Transparency International for youth leaders from Anglophone West Africa such as Liberia, Nigeria, Ghana, The Gambia and Sierra Leone.
Read Other Articles In Article (Archive)