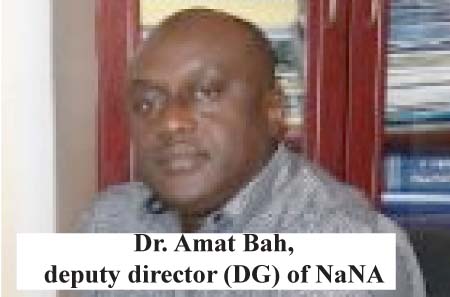 Dr. Amat Bah, deputy director (DG) of NaNA, said lack of micronutrients and vitamins is a hidden hunger that cannot be detected by mere looking, citing that there are physical signs that one could see and that it has impact on The Gambia.

He made these remarks at the two-day sensitisation workshop on Rice Fortification organised by NaNA in collaboration with World Food Programme (WFP), which creates a platform for key stakeholders in The Gambia to gain better understanding of the opportunities and challenges related to rice fortification. The convergence is also to learn from operational experience from other countries so as to devise a way forward in a local context.
Dr. Bah stated that micro nutrition deficiency is still a form of malnutrition, adding that "with regards to malnutrition, stunting and underweight, The Gambia is doing fairly well".
"We used to talk about stunting in the area of 40% prevalence and today we are talking about less than 15%," he revealed.
He further stated that stunting is a chronic malnutrition that has been in existence for long and it takes time to be fixed. The Gambia over the years has done extremely well under malnutrition but still has a lot more to do to see that malnutrition is eliminated.
"With regard to micro nutrient malnutrition, we have a problem until last year in 2018, we did a micro nutrient deficiency survey, and we realised that for anemia alone, in excess of 50% of the Gambian children are anemic, non-pregnant women 59.9% and 56.8% of pregnant women are anemic," the deputy director stated.
Solange Heise, nutrition officer, FAO-The Gambia, in her welcoming remarks, said malnutrition is a public health problem in The Gambia. According to her, the results of the micro nutrients survey and a mixed survey from 2018 showed that although Gambia has made very good progress on reducing stunting, yet more needs to be done.
"And that is especially why we are fighting to reduce stunting but there is also some hidden things like the malnutrition forms such as micronutrients deficiency and also obesity and we should try to tackle all of them together and not leaving some of them behind."
"We say in the UN we're trying to fight zero hunger but we don't want to leave anyone behind," she said
She added: "We have a lot of people suffering from vitamin A deficiency in our communities and we think it is all in the global food we are consuming, but it is just the betterment of the diverse diet that can bring in key minerals that the body needs".
Dr. Corinne Ringholz, fortification advisor, World Food Programme said what is important in the sensitisation is how to impact health in communities, expressing that she is deeply passionate about public health.
"We see the need for the fortification of staple food and in this case of rice as one of our greatest tool in the fight against micro nutrients deficiency and we look forward to explore its potentials to rest hidden hunger and micro nutrients deficiency here in The Gambia," she explained.
Read Other Articles In Article (Archive)