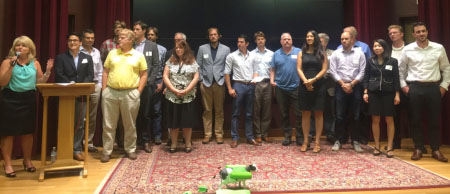 The CEO of Agua Inc., Bianca Griffith, on June 17 presented the Kotu Ponds project at the Cleantech Open in California, the United States.
Agua Inc. is a waste water treatment company working towards the improvement of water and sanitation in The Gambia.
Cleantech Open is the world's largest accelerator that 'finds, funds and fosters entrepreneurs' with big ideas that address today's most urgent energy, environmental and economic challenges.
The not-for-profit organisation also provides a unique platform to promote new initiatives and source investment.
CEO Bianca's presentation centred on the work currently ongoing at the Kotu Ponds which include the waste water treatment project and upgrading of the Kotu Ponds Treatment Facility in The Gambia.
"Agua Gambia is supporting and promoting Eco Friendly initiatives which is currently being developed in the country," Bianca said.
She added that the event will be key to promoting The Gambia as a leader in sustainability to the world so as to meet the commitments made by The Gambia government in the Sustainable Development Goals.
She said: "We want to help the government improve the livelihoods of communities through best environmental practices and development approaches that strive to build climate resilient infrastructures and streamline climate change in national development. This will make The Gambia more adaptable to the adverse effects of climate change."
Up to 1,000 cleantech start-ups have since 2005 participated in the annual accelerator and mentorship programme in the United States alone.Of these, roughly 70 per cent are still active today.The Cleantech start-ups have collectively raised a total of more than $1.2 billion and created thousands of jobs.
In 2014, Cleantech Open expanded the reach of its acceleration programme beyond the United States through the Global Cleantech Innovation Programme (GCIP): a joint programme of the Global Environment Facility (GEF), the United Nations Industrial Development Organisation (UNIDO) and the Cleantech Open.
In addition, Cleantech Open runs the annual Global Ideas competition in collaboration with Global Entrepreneurship Week (GEW).
The programme showcases the most promising clean-technology ideas across the planet and has included entrepreneurs from 43 countries. Fuelled by an expanding global network of more than 2,000 volunteers and sponsors, the Cleantech Open unites the public and private sectors in a shared vision for making the Cleantech sectors a thriving economic engine around the world.
Read Other Articles In Article (Archive)