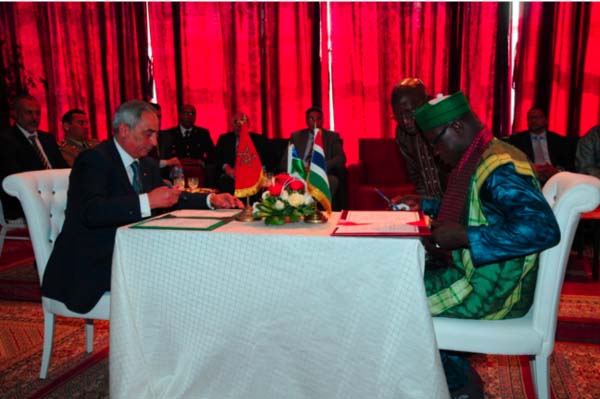 A six-member delegation led by Alhaji Yankuba Colley, mayor of the Kanifing Municipality, recently returned from the Kingdom of Morocco where they signed a bilateral agreement between the KMC and the City Council of Morocco.
The five-day visit to Morocco came when the KMC was approached by their counterparts in Morocco for mutual development agreements for the benefit of the two municipalities.
The KMC Mayor was hosted by his counterpart, Mayor Muhammed M. Fadel, and the two signed the agreement on behalf of the two municipalities.
This development was announced to journalist yesterday at a press briefing held at the mayor's office in KMC.
Mayor Yankuba Colley said they were approached through the Gambia's ambassador in Morocco, Lamin Kabba Barjo, who made the introduction to the Gambian officials.
The twinning agreement includes cooperation and exchanges in economic, environmental, educational, cultural sectors and sports, urban development, knowledge and experience-sharing, among others.
During the visit to Morocco, Colley told reporters, they were taken to places of interest as a municipality, adding that they were able to visit an oil refinery company, the ports, the sewage system and environmental projects, among others.
Colley announced that they are expecting their counterparts to visit The Gambia in April this year.
KMC CEO Alhaji Mustapha M. Njai said the Gambian ambassador was instrumental in strengthening the relationship between the two countries, adding that they went straight to business upon their arrival in Morocco.
One of the top agenda items put was how to ensure the cleanliness of the various cities and municipalities.
Njai cited the environment as an issue which topped their agenda, as they are making all efforts to emulate their Moroccan counterparts on the cleanness of their environment.
Read Other Articles In Article (Archive)