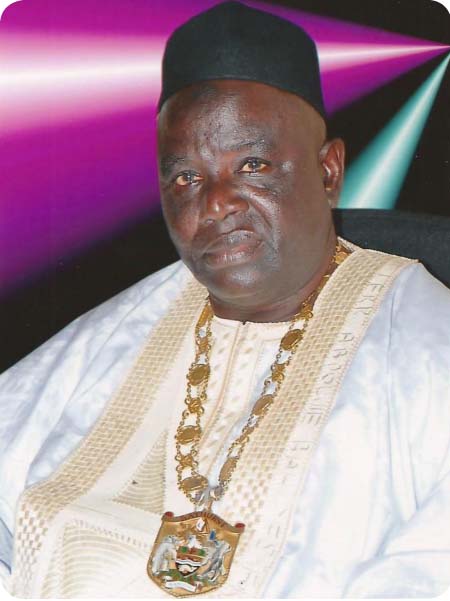 Mayor Abdoulie Bah of the city of Banjul has complained that the municipal and area councils are losing out to the Gambia Revenue Authority, GRA, and Gambia Tourism Board, GTB, among other institutions in the struggle to collect taxes from the public.
Bah called on the central government to re-visit what he described as "double tax collection", adding that this is a matter of concern as it is affecting businesses in the country.
Mayor Bah, who was speaking in an exclusive interview with this reporter, said he said as much when he appeared recently before the select committee on lands and regional government of the National Assembly in Banjul.
It would be recalled that members of the parliamentary select committee recently went round the whole country, meeting with regional governors, visiting and meeting with area council officials, as well as officials and the mayors of Banjul city council and Kanifing municipal council.
They discussed their performance and the contributions they make towards their electorate.
Bah said it was an opportunity to address certain areas, which was important "because we are encountering difficulties as far as councils are concerned".
Number one is the revenue base or issue of collections; as at now we are facing difficulties, constraints with collections, he revealed.
He said the revenue collection areas for the councils have been taken over to other institutions.
Mayor Bah in the interview said the Gambia Revenue Authority (GRA) and Gambia Tourism Board (GTB), for example, have engaged in collecting taxes which were previously collected by the councils, and that "this is making life very difficult".
For example, Banjul city council was getting around 7 million dalasis from car parks annually; but now receives a fraction of that, just around D300,000 from the GRA.
The GTB, for its part, has been invoking powers to collect revenue from motels, which was formerly collected by councils.
Bah said, as an example, that GTB representatives are calling at properties within the council's jurisdiction, and collecting taxes from motel owners, which he said was done by the councils.
He described this as a problem that needed to be addressed.
"I believe that eventually the government will have to revisit this matter".
He said GRA representatives are also going to markets built by the councils, and collecting taxes from shop-owners.
Consequently, vendors have been running away or hiding, when they see them, with some businesspeople even closing their shops for a period, "because of the high charges levied on them, which they cannot pay," he added.
"We are not saying that people should not pay taxes, but it should be collected in the right way," he stated.
"We all depend on tax collections, but we should also assist the nation to survive," he added, highlighting the impact on businesses, which are being closed down.
There was a time when you hardly see a closed shop. However, these days, it is common to see several closed shops, according to the mayor of Banjul.
"I believe government will eventually re-visit these areas of concern, because you cannot have different institutions collecting taxes from these same people," he further pointed out.
According to mayor Bah, livestock owners, for example, previous paid to councils, but now-a-days there is an institution which is going out, even to markets built by the councils, to ask for payment.
Mayor Bah added that the councils are facing constraints in tax collection, because the areas that were supposed to provide them with the revenue to execute their commitments fully, have been handed over to other institutions.
This affects not only Banjul city council, but councils in all the six regions in the country, he went on, adding that he also learned that Kuntaur area council in the central river region, for example, "could not even collect the amount collected in Banjul" – referring to the D300,000 GRA gives to Banjul as its share of the collections from car parks.
"We rely on these collections to fulfill our obligations as councils," he pointed out, adding that as councils they should plough back 60 percent of their collections to address the needs of their local communities.
Bah said he urged the National Assembly members, who are representing the people in parliament, to seriously look into the matter, as councils depend on the tax collections to survive, and also to fulfill their responsibilities to the people.
The overhead of councils, for example their payments to NAWEC "is too much," he declared, especially he continued, when one considers the fact that "NAWEC is using council areas to make business".
NAWEC should have paid for those poles (the poles fixed on the ground for NAWEC's electricity transmission and distribution network) they build, but councils exercised understanding and allowed NAWEC to install poles in councils' areas without paying charges.
Despite, sometimes NAWEC staff will walk direct to the poles and disconnect councils, "which is embarrassing", he said.
"We as councils can appeal to government for them (NAWEC) to pay for each pole, because this is business," he pointed out, while calling on the central government to assist councils.
Asked about the issue of markets being dominated by foreigners, Bah said it is only in The Gambia where you would be a foreigner and rent up to six shops in the same market.
"I believe foreigners instead of Gambians being rented shops in our markets is not proper", he observed, adding that the only way Gambians should be encouraged and assisted is by being given the opportunity to run shops in our markets.
He said when shops at the market in Banjul were being allocated, he was not in office.
However, presently they are working on a suggestion to re-allocate all shops that belong to the BCC "in the right manner".
According to the lord mayor, the highest rent for a BCC shop is D650.
However, they have discovered that if a Gambian wants a shop at the market, "you would be charged (by the foreigner who was originally allocated the shop) nothing less than D40,000 to D50,000" per annum. He described this as "something very serious".
Regarding the reconstruction of roads in the capital city, Bah said they are currently working on two to three roads, which would hopefully be completed before his first year in office.
"With the intervention of the President and the ministry of Works, before the end of 2014 they will finish 12 major roads in Banjul," he announced.
About the performance of the city council's cleansing service, he said currently they are working with eight vehicles for garbage collection in the city, which he has vowed to keep clean.
Read Other Articles In Article (Archive)