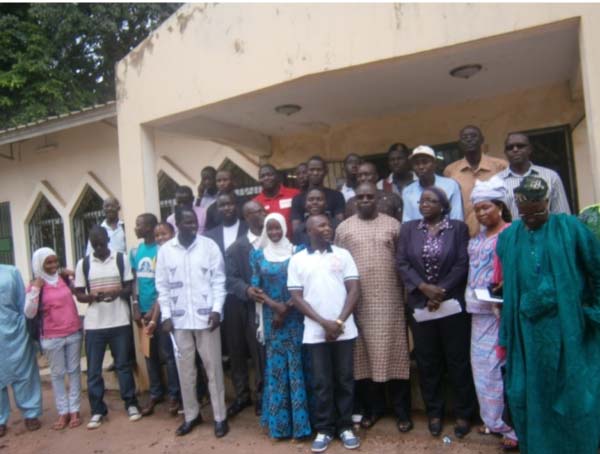 Mayor Yankuba Colley has said KMC is first at anything and ever successful, in his address to the youth at the launching of their Local Organizing Committee for NAYCONF 2014, held recently at the KMC Chambers.
Delivering his launching statement, Mayor Yankuba Colley said: "KMC we don't compete although other regions compete against us. For us we are not competing because we are ever successful."
He said in the last NAYCONF they came out second, which was not the name of KMC because their name is 'First in anything'.
He said the launching of the Local Organizing Committee meant they have to go the extra mile to deliver, adding that to succeed in their endeavours they have to ensure they become champions of the next NAYCONF.
He said as a committee selected among thousands of youths within the municipality, he hoped they would represent them well.
He said to represent the KMC is not easy because a lot is expected of you and you should deliver, which according to him, is a must.
Mayor Colley said the country depends on the youth and tasked the committee to come up with a song they would use in all the activities concerning NAYCONF.
"There must be a song, it should not be a long one and let it be a song that everyone in the municipality will be associated with so that anything we are doing our supporters can sing that song for us," Mayor Colley said.
"We should start something that others will copy. I know with this able team, they will come up with a song that whenever we sing it, it will give us energy to pull muscles," said Mayor Colley.
Lamin Marong, chairperson of KMYC – Kanifing Municipal Youth Council, said they are cognizant of the fact that NAYCONF is bi-annual; it is centred on development and youth entrepreneurship, mass participation and sport.
He added that it also includes issues on technical vocational and educational training and cultural talent promotion, as well as issues affecting sport and the way forward for sports development in The Gambia.
He said the programmes include the flag tour, opening ceremony, youth conference, youth exhibition, sporting activities, Miss NAYCONF other activities.
Salama Njie, deputy director of Administration at KMC, said they as a council has attached all their policy frameworks and programmes on youth matters.
KMC, she added, has always been a key partner in all the past NAYCONF programmes.
She said they donated both in kind and cash and want to assure the youth that this time around they would not be an exception.
"Young people, be rest assured that you will have the support of the Lord Mayor and the Municipality," she said.
She advised them to be more diligent in all their activities.
Other speakers on the occasion were Kawsu Badjie, chairperson of Jeshwang youth committee, Alagie Jarju of NYC, Momodou Jaiteh and Muhammed S. Touray.
Read Other Articles In Article (Archive)