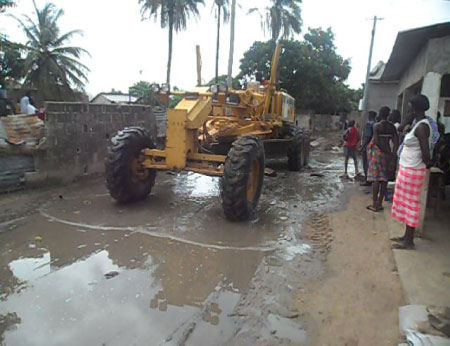 Kanifing Disaster Management Committee (KMDMC) on Monday drained Njago town waterways following complaints of flooding by residents of the area.
Speaking to journalists after the exercise, KM disaster coordinator Binta Sey-Jadama adduced that Njago town residents settled on a natural waterway.
"The blocking of water way in Njago town is a manmade problem; I mean it is the residents themselves around the area who blocked the waterway for their own personal interest," she stated.
Mrs Sey-Jadama advised residents of the area not to tamper with the road they have leveled, noting that if anyone blocked the waterway, the water will divert its course and if that happens, the water will go the wrong way, which at the end will cause problem. 
"This drainage we did at Njago town is supposed to be funded by Kanifing Municipal Council but they are yet to come up with the funding and because the raining season has started my office decided to step in but whenever KMC is ready they will drain the area," she said. 
She continued: "We as Disaster Management Agency we are just coordinating as NRA, NEA and KM physical planning departments have a major role to play when it comes to drainage systems within the municipality," he informed journalists.
Meanwhile, some of the residents who spoke to this reporter included Ansumana Sanneh and Yadicon Ceesay who expressed their disappointment with KM DMC the way they levelled the road.
They also complained about some residents blocking the road by putting a heap of gravel on the road, which causes flooding in their compounds. 
Other residents in Kansaikou, such as Darboe and Kebba Saidykhan of the same area, expressed their gratitude with KM DMC for levelling the road which the two said drivers can safely drive on now with no problem.
Read Other Articles In Article (Archive)