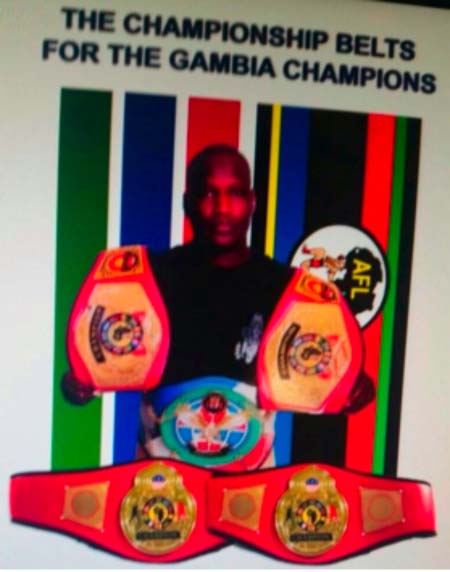 The Gambia Muay Thai Kick Boxing is due to stage a competition on Sunday 14 June 2015 at the B.O. Semega Janneh Hall, Serrekunda East Mini Stadium.
The competition, set for Sunday, will be the second championship organised by the association after its formation in 2012.
Ebrima D. Tamba, Kick Boxing commissioner, speaking to Pointsports yesterday, said the competition will feature athletes from 7 clubs (both males and female as well as kids).
He added that there would be competitors competing in various categories ranging from 30 to 90 above heavyweight.
"The aim of the championship is to select the best athletes for our national team, which will in future represent the country in international competitions," Mr Tamba said.
The competition is also geared towards the promotion of sports in the country as well as providing opportunities for youth to help them stay away from crimes, drugs abuse and related vices.
The competition will be on elimination basis with the first round taking place on Sunday 14 June 2015 while the second round is expected to be held after Ramadan.
There will be gold and silver medals for those that took first and second positions during the first round, he also said.
In each category two will qualify for the second round, he went on, noting that those thatwill take first position would therefore represent the country's internationally to defend their belts.
Those who will finish second will also compete out of the country to try to win the 'thero belt', he further said.
He noted that the sport is new in the country and they expect people to watch the competition as they are trying to promote and develop the sport like any other in the country.
"We need the support of the population because by coming to watch they will see and know what we are doing and what the sport is about," he stated.
He described kick boxing as a peaceful sport like any other, saying it has rules and protects athletes.
Master Bakary Susoho, a former Thai Boxing champion and present International Director AFL (Africa League), is due in Banjul today from the United States to witness the championship, he said.
He appealed to companies for sponsorship as they intend to stage more competitions, which will provide more opportunities for athletes as well as make them interested in the sport and come out to showcase their talents.
VIP ticket is pegged at D100 and ordinary D50, he said. 
Read Other Articles In Article (Archive)