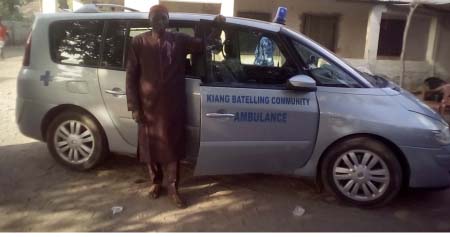 The community of Kiang Batelling, Lower River Region over the weekend received a donation of a new ambulance from Musical friends of the Gambia in Holland.

The Ambulance came through the support and coordination of Sulayman Jammeh, ward councilor of Bundung, who is widely credited for his development oriented persona.
At the presentation held at the village, Essa Sanyang, a representative of the Alkalo of Batelling, hailed the donors for responding and addressing one of the major challenges of the village.
He indicated that many women experienced difficult during labour as there is no means of transportation, saying that nightmare will now be a thing of the past.
According to him, the distance from the village health post to the main road is about 6km and as such many people resort to using horse carts and donkey-carts for referrals. The distance and other challenges, he added, result to most women having miscarriage and their new-born die on the way.
"Therefore, supporting the community with an ambulance is a worthy cause and commendable. We want to thank Sulayman Jammeh, who is the brain behind all this success and we want to assure him that we will endeavor to maintain the Ambulance so as to last long."
Also speaking, Sutay Drammeh, regional head director, LRR, underscored the importance of mobility, noting that with the coming of this new ambulance, it will make referrals easier.
He maintained that it has always being a slogan at health sector that no women should die as a result of labour.
Drammeh described the gesture as timely and worthy and went on to thank the donors for the laying the foundation stone for the fencing of the village primary school.
The ambulance, he went on, is meant to safe life, further urging the community to use the Ambulance for its intended purpose.
Sulayman Jammeh, ward councilor for Bundung, thanked the community of Batelling for the warm welcome accorded to him and his delegation.
The move, he said, is not only to support to the village health sector, but also to contribute their quota towards the development of the country's health.
Delivering the vote of thanks, Momodou Sanneh, deputy speaker of the National Assembly and also a native of the village, hailed the donors for the gesture he described as 'laudable'.
Sanneh went on to describe the coming of the ambulance as 'timely', and calls for more cooperation and unity to ensure that the ambulance last long.
The new ambulance, he added, would go a long reducing the daily hardship faced by women especially those at labour by ensuring timely referrals.
The event was followed by presentation certificates of appreciation by the community of Batelling to the donors.
Read Other Articles In Article (Archive)