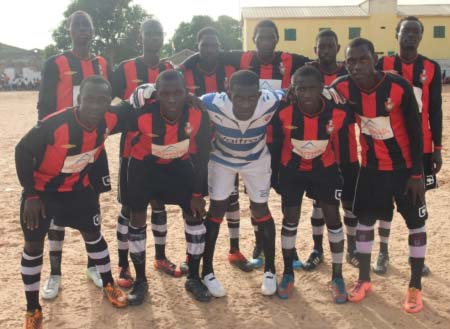 After an intense competition at the group stages in this year's Lamin nawettan competition under the new committee, KGH Sports have taken the lead in the overall standings in the nawettan rankings after remaining unbeaten and drawing only one match.
The academy lads have developed great enthusiasm and determination to prove all doubters wrong after experiencing a great setback with almost seven of their last year starting players left the academy to join other nawettan teams and centers within the GFF recognised zones.
As success mount for the academy boys, last year league finalists and knockout champions, Jatta's FC, were knocked out of the group stages by the margin of goal difference.
Among other big household names that didn't make it to the league quarterfinal are last year's league semi-finalists, Universal FA, who had the worst season with no goals and no points and stand at the bottom of Group C, booking direct relegation.
Other teams include Network FC, Falcons and Wayeto West, who couldn't make it to the next stage of the league.
As fines and suspensions remain to be the order of Lamin 2013 nawettan, after Network FC were fined D5,000 and suspended for four years with their players not allowed to watch or play in Lamin football field for the next four years, the recent fine went to Banjulinding United, who boycotted their last group match against CASA FC paving the way for Jatta's elimination and the latter CASA FC progress for the margin of goal difference at the expense of Jatta's.
Banjulinding United were therefore fined five hundred dalasis (D500) for match boycotting, whilst Armandoh Mbokeh of Kairaba Forex was also fined five hundred dalasis (D500) for breaking the committee's corner flag during his goal celebration against Network FC.
After the first round, below is the pairing for the league quarterfinal as it has been hanged up until progress has been made in the knockout cup, which has been balloted and will commence on Saturday 19 October 2013. CASA FC are the only team that made it to the quarterfinal as new debutants coming from the qualifying round and first year in Lamin Nawettan.
QF1 SANCHABA UNITED VSDARANKA UNITED
QF2KAIRABA FOREXVSHARLEM FC
QF3KOMBO KEREWAN VSSATEBA UNITED
QF4KGH SPORTSVSCASA FC
The dates for the league quarterfinals are yet to be determined and below are the knockout first round fixtures. The first match already started in the knockout with Harlem hammering GAMBINOS 2-0 all goals scored by Alieu Konateh, one of the exit players from KGH Sports. Those two goals have taken his tally to six goals making him the leading goal scorer so far.
Sanchaba United are the team which got automatic qualification to the second round as their pair, Network FC, have been suspended. Balloting for the knockout 2nd round will be held on Sunday 27 October 2013 during KGH Sports VS Golden Gate half-time break.
Read Other Articles In Article (Archive)