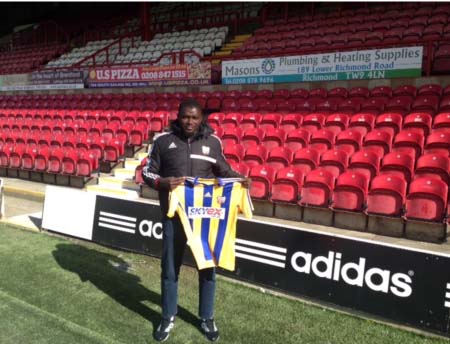 KGH Sports Football Academy was at the weekend agreed a sponsorship package with Brentford FC Academy of the UK.
The agreement, achieved in a meeting held between the Brentford FC Academy director, Ose Aibangee, Stuart English, a Foundation Phase Lead Coach and Yahya Manneh, the founder and head of coaching affairs in the Lamin-based football academy.
According to Mr Yahya Manneh, who was in Brentford to attend practicals and club observation, he was very much happy to be partnered with Brentford FC Academy whose recent achievements in UK football can propel any future determined person aiming to get excellence in football.
"I have stayed for a week in Brentford observing everything that relates to football and really learnt a lot and hoping to bring them back to The Gambia and implement them," he said.
"The areas I have been attached to are technical/coaching department, sports science, education and welfare and also academy administration.
"The knowledge gained cannot all be implemented at a go, but will take a bit of time until you are able to get the right committed people to train them for the job as things in The Gambia are mostly all sacrifice.
"The heads of all these departments were fully cooperative to me and gave me almost all they can get with true knowledge."
During the meeting, Mr Ose Aibangee, the academy director, promised to help sponsor the Lamin-based football academy and emphasised that proper sponsorship will be done next season, that is 2014/2015.
He added that they would be coming to The Gambia to do the official partnership ceremony early next 2015.
When coming, they promised to bring along highly qualified coaches to coach the KGH Sports Academy players and also to hold football coaching courses in The Gambia with a personnel from their sports science and medical team who will also educate the Gambian team doctors about players' personal wellbeing and health with proper nutrition that can keep one's performance at the highest level.
Yahya Manneh is in the UK to do his FA youth modules, Module 1 of which he has completed and was supposed to start Module 2 on 12 May 2014. 
Read Other Articles In Article (Archive)