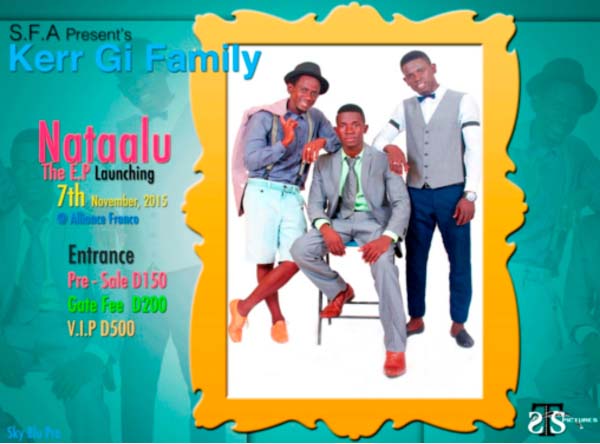 Kerr Gii Family are three brothers from the same family and Gambians by nationality, namely Muhammed Cham, Baboucarr Cham and Barham Cham, and they are putting the finishing touches to stage an upcoming event called "Natalu", which will take place on Saturday 7 November 2015 at Alliance Franco.
The three brothers have had a passion for music since they were young, but they officially started music in 2009 and first did their recording in 2010, said the group's leading vocalist Barham Cham.
According to the three brothers, they took music as a profession and to upgrade themselves, trying to blend their music with the African heritage so they could represent Africa at another level, especially in the international level.
They said the mission of the "Natalu" event is that since they have started music for the past six years and got the passion for the job, they later realised that music is not just a passion but also a profession.
After working for so long and travelling to different parts of The Gambia and Senegal at large, they realised that being international musicians is all they ever yearned for and, therefore, they should start preparing themselves right now.
"We choose Natalu simply because anyone who knows Kerr Gii Family will know that we are culturally-oriented; our music is not just taking hip-hop that belongs to the Americans and doing it exactly the way they are doing it, because we believe if we try to copy them any action we take will be of second choice," they said.
We have to initiate things of our own, things that we will be proud to call ours, despite anything because our culture is our civilization. So we take that music's western melody and fuse it with the things we own that will help us create one unique thing that will attract everybody.
They highlighted that the most special thing about the event is that we have musically grown in everything. "Our maturity has grown, our stage management has grown, our combination has grown, and the vocal quality volume has grown too" to an extent that they will grab the attention of the general public.
"Natalu is a thing that reflects the past, present and the future; that is why Natalu is chosen to signify the album", said Barham.
They pointed out that they are working on a project which is "Naatalu" itself. It is the project and the reason why it's the project is because many people had launched their albums or mix tapes; after they would be in silence.
However, they realised that they need to go on, as they are trying to advocate the importance of culture in society and issues of our society that is really necessary to know.
"I think it should be in a form of advocacy, to raise burning issues of the society. We are advocating for women and child rights, in particular, and it's a big project which entails many things.
There are so many challenges, they said, but nothing good comes easy; that's the concept they have. They faced so many challenges on the way, but they never gave up.
"It keeps us stronger than before. One of the main challenges is that Kerr Gii Family is a group which is financing themselves. There are no sponsors, "even though we wrote to many people, but few responded; yet still we believe that since this was what we choose, we have to put our hearts in it," they narrated.
"Our expectation from the people is to see them turn up in their thousands to grace this event with us, because it's going to be in the history of the music industry," said the brothers.
"We are fully equipped because we have a mentor who is a veteran in the music industry; he is always there for us, he guides us, protects us, inspires us and taught us so many things that we have never known before. So with regard to that, we are urging all Gambians to come out in their numbers to support and make the day a memorable one."
Read Other Articles In Article (Archive)