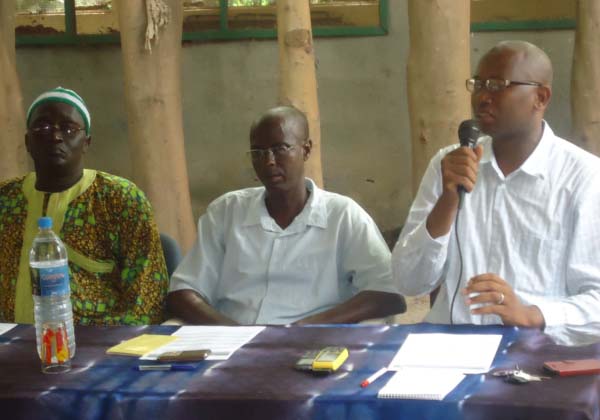 Kerewan Area Council with Support from Voluntary Service Overseas (VSO), Youth Engagement and Participation pilot project Friday organised a five-day youth summer camp for 45 youths on entrepreneurship and basic business skills, youth in community development, project proposal writing and fundraising, leadership and group management and advocacy on national youth policy.
The five-day youth summer camp was held at the Njawara Agricultural Training Centre in the North Bank Region.
VSO Youth Engagement and Participation project is piloted in Kerewan, Brikama and Kuntaur Area Councils, with the ultimate aim of empowering the youth to partake in community development and sustainable livelihood.
Speaking at the summer camp, Alpha Mariam Khan, Vice chairperson of Kerewan Area Council, lauded the efforts of VSO for partnering with local councils in building youth capacity on wide range of issues to bring about active youth participation and engagement to enhance sustainable livelihood.
He noted that youth engagement and participation is fundamental in accelerating development efforts at community levels, noting that it would enhance consultation and collective decision-making on issues affecting youth development and empowerment.
Vice chairperson Khan said the project has enhanced the capacity of youth on skills acquisition and public speaking, adding that it would promote networking and partnership.
Lamin S. Jawara, chairperson of NBR Regional Sports Committee, underscored government commitment to youth development and empowerment.
He renewed his office support to the implementation of VSO and Kerewan Area Council youth engagement and participation, while challenges the youth to be steadfast in the implementation of the project to bring about behaviour change on the youthful population.
Alasan Keita, Director of Planning and Development at Kerewan Area Council, gave an overview of the project and thanked project working groups and steering committees for their support to the implementation of the project.He praised the partnership that exists between the council, noting that it had enabled youth groups to collectively work towards attaining youth development and empowerment.
Sheriff Mboge, Chairperson of North Regional Youth Committee, thanked VSO and KAC for their support to youth empowerment, saying the project had linked youth groups to development partners.
He challenged the youth to make best use of the opportunity provided by government and development partners and desist from travelling illegally to Europe.
Read Other Articles In Article (Archive)