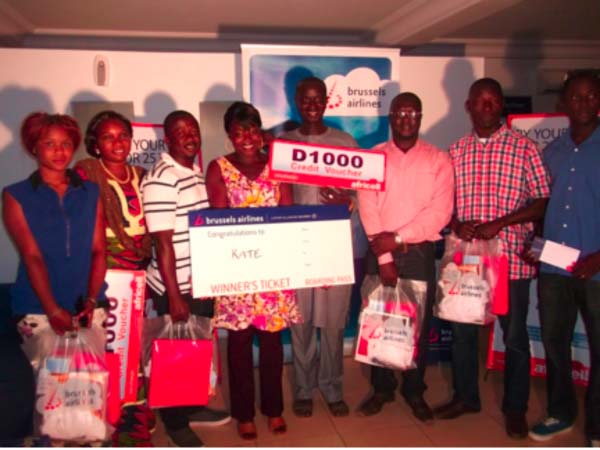 One Kate Okunhon on Saturday won Brussels Airline's flight ticket to any destination of her choice in Europe.
This came through as Brussels Airlines and Africell GSM operator staged their 1204 email-sms service, which takes place every two months.
The event coincided with Brussels Airline's 25 years of existence and reliable service delivery in The Gambia.
The presentation ceremony was held at Brussels Airline's office on Senegambia highway.
Winners of the draw included Nialing Diallo, Isatou Badjan and Badou Khan, who won goody bags among other prizes, as well as D1,000 Africell credit voucher for winners, which is also being staged every month.
Speaking to The Point, Kate Okunhon thanked both partners for the "surprise" to her, saying she never expected to win such an air ticket to Europe.
She disclosed that she had never been to Europe, although she is looking forward to be there, with the opportunity given to her by Brussels Airlines and Africell to win an open flight ticket to Europe.
She described the two partners as great institutions in bringing people closer and helping them achieve their dreams.
She encouraged the public and Africell subscribers to be sending in text messages to 1204 to stand the chance of winning great prizes from the companies.
Nialing Diallo, a goody bag winner, said she only sent one text message and was lucky to win a prize, even though she was not too hopeful after sending the message.
"When I received the phone call that I have won a prize, I could not believe it," she said, adding that she disseminated the information to her friends and neighbours to also try their chances.
She, however, commended both companies for the show of corporate social responsibility. 
Read Other Articles In Article (Archive)