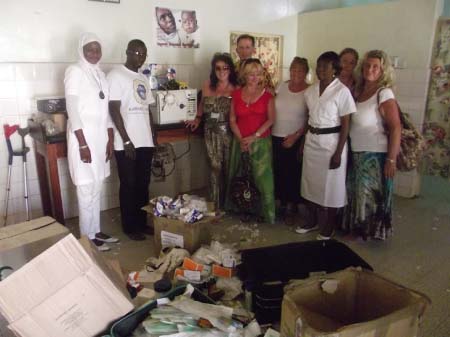 Karmic Angels (KA), an international NGO working in The Gambia, recently presented medical equipment to the Serrekunda Health Centre at a ceremony held at the health centre.
The donated items included a table top autoclave, 2 nebulizers, ventolins, medicines, bandages and warfarins amounting to over D25,000.
Speaking at the occasion, Alan and Stephanie Turner, the founders of Karmic Angles, said they have one time visited the health centre whilst the maternal ward was under total refurbishment and therefore promised to render aid to the centre.
The couple used the occasion to outline health as one of their priority intervention areas in the country.
They disclosed that some of the items were donated by friends and volunteers of Karmic Angels, such as Val and Pete, Morey and Annie Hook from Bristol, Donna Aldington and Nicky a nurse in Warrington, describing them as individuals who are committed to helping humanity.
The donors also renewed their commitment to render more assistance to the health centre, while expressing hope that the donated medication and other equipment would go a long way in helping the centre.
Rohey Jammeh, senior nursing officer in charge of the health centre, thanked KA for donating the valuable items and assured its members that the materials would be put into good use.
She singled out the autoclave saying it would be very instrumental to the health centre, since the one they were using initially had a problem.
"Drugs will also be very important to the centre here and we are really happy to have them from Karmic Angles, whose main priority is health," she said.
She also thanked KA for the gesture, adding: "It is meant to complement government's efforts." 
Meanwhile, the team of Karmic Angels paid a visit to Brikama Medina Nursery School on Friday to discuss further plans to developing the school.
 Speakers at the meeting highlighted the constraints of the school while thanking Karmic Angels for helping them to upgrade the school.
Binta Sanyang, one of the mothers in the community, said: "They were all so grateful for their amazing school."
Nyam Jassey, a teacher at the school, also pleaded with the visitors to help them with a toilet  and other facilities.
Alan Turner, director of Karmic Angels, informed the community that the former charity is now a Non-Governmental Organization (NGO) and that "all new proposed projects were subject to approval of the Ministry of Education".
 "It is our duty to continue our transparency and consistency wherever we work in The Gambia.
"What we need from Medina is your proposed budget cost for these requirements and then we will put these to the Ministry of Education for their consideration," he said.
Read Other Articles In Article (Archive)