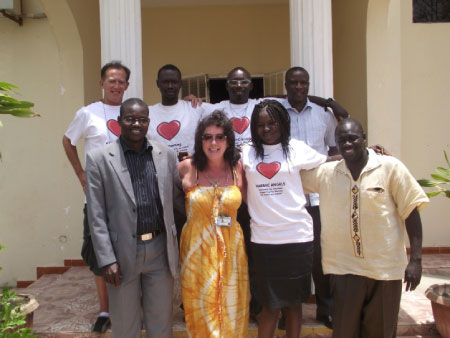 Cognizant of the importance of genuine partnership in the attainment of their set goals, Karmic Angels recently met with Sight Savers International.
The meeting held at Sight Savers office in Fajara sought among other things to draw a roadmap for a possible Memorandum of Understanding (MOU) to be signed between the two international NGOs for collaboration.
The officials were at Sight Savers International office to discuss ways and means of how both NGOs can work together in three core areas which include sponsoring visually impaired peoples; cataract operation for blind people; and as provision of lens for visually inspired.
The meeting was part of series of engagement the two are calling ahead of the landmark signing of the MoU in later stage.
Karmic Angels is an international NGO offering relief and development as well as providing aid to Gambians in diverse areas in health, agriculture, and education while Sight Savers is also an International NGO specializing in visually impaired people as well as helping to integrate and rehabilitate people that are impaired.
Since its establishment, the KA has rendered tremendous support to The Gambia, through building schools, sponsoring orphans, supporting football teams and academies as well as donating several materials to the Ministry of Health and Social Welfare over the years.
Speaking briefly at the meeting, the Project Officer at Sight Savers International, Momodou Njie, welcomed the initiative of partnership, adding that they are proud to be associated with the KA as their area of focus is the same as Sight Savers.
"We are open to partnership, that one of our program approaches, is to build sustainable partnership with people who can replicate the model that we developed and demonstrated so that they will perpetuate them in future," he said assuring the team of his office commitment to genuine partnership.
He urges the team to also share whatever experience or model they have with his office which he believes will certainly help both offices.
He promised the KA the discussion they had will rely on the Dakar office overseeing The Gambia for possible action adding: "We can negotiate but the final decision comes from Dakar."
Njie explained that Sight Savers has lot of partners both in the government and theprivate sector adding that proposed partnership with KA will surely bear fruits.
"We have partner with Ministry of Basic and Secondary Education in education to give access to quality education to children with visually impairment and so far we have been able to help 74 visually impaired children to go mainstream school or special schools," he added.
For their part, the founding director and chairman of Karmic Angels, Stephanie and Alan Turner, explained what the charity cum NGO has been doing since its establishment in 2008 and their area of focus, which the couple said range from health, to agriculture and education.
Recalling, the couple said: "Since our inception we have built many schools for Gambian children and currently we have seven long-term projects in progress but we have a strong partnership with Sight Savers in helping visually impaired children and adults as well as helping in cataract operation."
According to them, partnering with a well reputable and respected NGO specializing in eye and visually impaired people is a step in the right direction, while hoping that the MoU will soon be signed to formalise the partnership.
They say the KA aims to greatly improve conditions and opportunities for Gambian people by providing clean drinking water, better sanitation and helping to raise awareness in health, agriculture, education and food self-sufficiency.
They also announced plans that the KA is at advanced stage to set up their first agricultural project at Sittanuku in NBR, which they said would benefit the community.
"We are very optimistic about the MoU, this will be realised soon." Stephanie Turner, the KA founding director, said.
Meanwhile, the KA team also paid a courtesy call on the Secretary General and Head of Civil Service, Dr Njogu L. Bah, at his office last Wednesday where they discussed wide-ranging issues including the operation of the KA and how they can also reinforce their partnership with government.
Read Other Articles In Article (Archive)