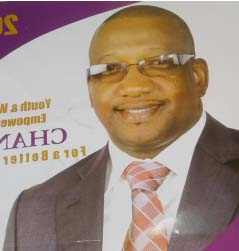 Mamma Kandeh, standard bearer of the opposition Gambia Democratic Congress (GDC), has said that the party has come to unify and salvage The Gambia, and put it on the path to sustainable development.

Kandeh reiterated this message at his meetings on Wednesday in Sanchaba Sulay Jobe, Bundung Borehole, Fajikunda and Mandinary.
He, once again, refuted rumours that he is being sponsored by the incumbent, President Yahya Jammeh.
"I am not sponsored by him or Boko Haram. These rumours are false, baseless and unfounded, and it is fabricated to undermine my support base," he said.
He further said the GDC as a unifying party is opened to everybody to join, adding that he had advised his supporters not to attack the convoy of the coalition and to promote peace in the campaign and on Election Day.
"I call on Gambians to desist from tribal politics, maintain peace and stability, and promote tolerance and love."
On his promises, the GDC leader said if elected, he would improve the health services and introduce a national health insurance scheme.
"Healthcare under my regime will be more reliable, affordable and acceptable," he said. "I will also improve the country's agriculture and energy sector, as well as create more jobs for the youth."
"I will also promote freedom of speech and democracy, and Gambians in exile in the Diaspora will be free to return home," the GDC leader added.
Read Other Articles In Article (Archive)