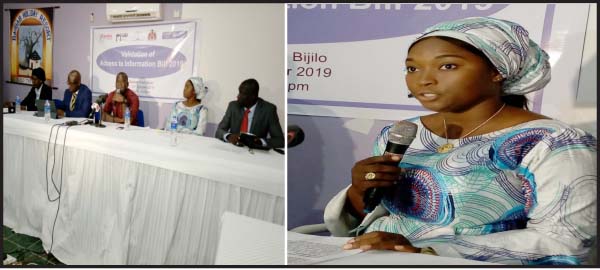 Justice Minister Abubacarr M. Tambadou has blasted the government of Gambia's exiled former President Yahya Jammeh, saying it was 'hostile' to journalists.

"It is common knowledge that the previous regime exhibited gross hostility to media practitioners evidenced by the numerous legislations introduced to suppress freedom of expression and its treatment to journalists," he said in a statement read on his behalf by state counsel Naffie Sissoho, at the validation of Access to Information Bill yesterday.
He said media practitioners operated under continuous harassment and oppressive laws, saying the 1944 Newspaper Act, the Criminal Code of 1933 and the Information and Communication Act of 2009 were all subjected to amendments with very harsh and abusive provisions designed to stifle the right to freedom of expression and information.
"In recognition of the democratic right to freedom of expression, the government of The Gambia wishes to ensure that all laws relating to freedom of expression are consistent with the Constitution and international best practices."
Justice Minister Tambadou maintained that all existing laws seeking to restrain and inhibit the fundamental rights of the people to free expression should be repealed and replaced with appropriate legislation that facilitates the right of expression in a democratic society.
He said the government is very much committed in creating a transparent, pluralistic and democratic society. "The bill will promote transparency, accountability, good governance and development by educating people about their rights, support sustainable development goals in respect to access to information, ensure transparency among others," he said.
Sheriff Bojang Jnr, President of The Gambia Press Union said, "When we talk about access to information, often a time minds go to journalists and journalism. However, it goes beyond that because this has to do with every sector of our society from the market women to taxi drivers and others."
He said with access to information there is lot to gain and lot to win collectively as a nation and as a people, saying without access to information,people will be losing many things, including basic information from health, agriculture, foreign services among others.
"Our goal today is to introduce an access to information law in The Gambia by December 2019. We want to have an information law that all of us will be proud of. We want to have an information law that will put The Gambia on the map as the human right capital in Africa," Salieu Taal, President of Gambia Bar Association said.
He said as a nation of democracy, having access to information law in place would help ensure transparency and accountability of government. "Similarly, it will help the citizenry to form informed opinions. The promulgation of an access to information law will ensure good governance and its line with the government strategic priorities the National Development Plan."
John Charles Njie, Chairman of TANGO, who also doubles as chairman of coalition on Access to Information said the government has shown great commitment to ensuring and showing willingness that the country's democracy is strengthened and committed to ensuring that there is freedom of information law by 2020.
Hawa Sisay-Sabally, a veteran lawyer who drafted the bill said, "In drafting the access to information bill, I took into consideration Gambia's obligation to international law particularly the African charter."
She said one of the obligations is that all the rights in the charter must be given effect to by state parties, adding that one of such rights are right to access to information.
Read Other Articles In Article (Archive)