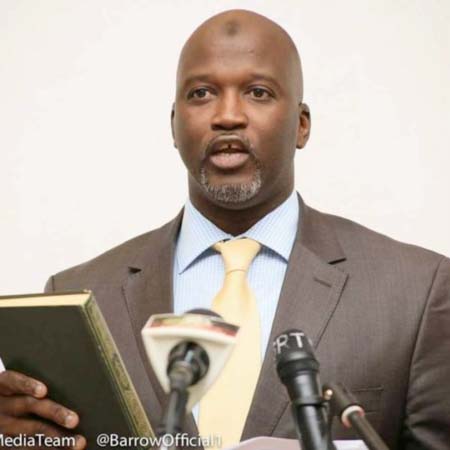 Aboubacarr M. Tambedou, Attorney General and Minister of Justice, has said his ministry's main tasks, which are expected to be addressed soon, include a constitutional review, as well as institutional and law reforms in order to consolidate democracy and good governance in The Gambia.

He was speaking to journalists after taking the oath of office, during a ceremony at the Kairaba Beach Hotel presided over by President Adama Barrow and attended by the Foreign Affairs Minister Ousainou Darboe and Interior Minister Mai Ahmed Fatty.
He said his first task is to restore confidence in the Judiciary and justice system, adding that he would engage all the stakeholders in the justice process for better service delivery.
Asked about his main priorities as the chief legal adviser to the President and the government, Minister Tambedou said: "One of my priority engagements will be on the constitution, as all laws are derived from that constitution, which is the starting point."
"We will be implementing or starting with the constitutional review process, with a view to ensuring that our constitution is relevant and serves the purpose for which the Gambians have adopted it in the first place."
Minister Tambedou added that his second priority is to ensure institutional reform, as the constitution provisions alone do not guarantee any meaningful change; therefore, it would be complemented by institutional reforms.
"We will ensure that we build robust and independent institutions that will prevent the creation of a permissive environment; that will condone the rule of law and stop the violation of human rights with impunity."
The third area of priority would be law reform, particularly in the criminal justice sector and the media laws as well.
"I think it is obvious that you cannot have democracy without the freedom of expression being exercised fully and without reservations."
However, he added, it has to be done in a responsible manner; but the cornerstone of any democratic exchange of ideas is to allow the free flow of ideas in the first place, he noted.
Read Other Articles In Article (Archive)