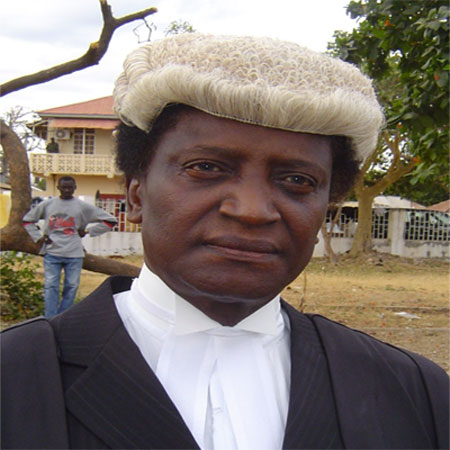 The Attorney General and Minister of Justice, Edward Anthony Gomez, has underscored the importance of justice delivery, which he said is of paramount importance.
He stated that without justice, no society can move properly, quoting the National Anthem where, it is said that 'justice guides our actions'.
"The legal profession requires continuous learning and the law also changes to keep abreast with the society," he told a cross section of state prosecutors.
Hon. Gomez was speaking to state prosecutors at the AG Chambers during a two-day training workshop organised by the Legal Capacity Building Programme (LCBP) Phase 2 with funding from the UK Department for International Development (DfID).
According to Justice Minister Gomez, the training was meant to enhance and improve the knowledge of state counsel as their profession requires continuous learning.
He hailed the efforts of the LCBP project and DfID as a good donor agent of the Ministry of Justice, stressing on the importance of the training programme, which he said cannot be overemphasised in the sense that it will surely help the state prosecutors in their work.
"Make the best use of the training,"Minister Gomez further told the prosecutors, adding that giants strides have been made in the Gambia's justice delivery system.
Sanna Dahaba the project co-ordinator of the LCBP Phase 2 underscored the importance of such training, especially to the state counsel who are deeply involved in the profession.
The legal profession, Dahaba added, is a noble profession, and said that the LCBP will continue to do more to meet the demands of the Justice ministry.
The training brought together senior state counsel, the Chief Justice as a resource person, and the Solicitor General and Legal Secretary.
During the forum, participants covered, among others, topics such as the requirement of working in the drafting unit as a curator, in the companies registrar and as a registrar general, the requirements of working as a lawyer in the civil division of the state law office, the principles guiding the work of a state law office, preparing for a civil trial, the requirements of working as a lawyer in the criminal division of the state law office, the law and practice of pleadings in civil cases.
The session was co-moderated by Pa Harry Jammeh, Solicitor General and Legal Secretary and Dr Henry Carrol, a legal practitioner and law lecturer at the University of The Gambia.
Read Other Articles In Article (Archive)