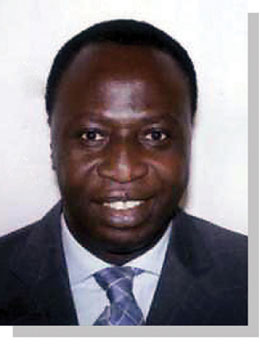 The newly-appointed minister of Information and Communication Infrastructure, Bala Garba Jahumpa, was yesterday sworn in at a ceremony presided over by President Yahya Jammeh at State House in Banjul.
Jahumpa, who was appointed as new Information Minister on Tuesday, took the oath of office, allegiance and secrecy.
Speaking at the ceremony, President Jammeh described Bala Garba Jahumpa as a role model, who is not only approachable or down to earth but sociable, very tolerant and humble.
"These virtues are very important for any human being, more so, a public servant; when Balla was at the ministry of Works, he had no closing time and one thing which is interesting is that he has no permanent office," Jammeh stated.
Noting that Balla was very conversant with the problems of his portfolios, the Gambian leader expressed optimism that Balla will continue to be the 'Action Man' he has been known for.
"Loyalty, I will not talk about; patriotism, I will not talk about, because Balla is one who was at the forefront of the revolution when people were insulting him for betraying his father who was a key member of the government that we overthrew," Jammeh added.
Speaking shortly after taking the oath, Bala Garba Jahumpa lauded President Jammeh for his dynamism, sincerity, productive and genuine leadership, noting that any progressive Gambian will be honoured to be part of the President's team.
According to Jahumpa, it is self evident to the whole nation that under the leadership of President Jammeh, Gambia has gone through tremendous development processes for the benefit of the people and the nation, in particular.
"What we can do collectively as a cabinet is to assure you (the President) that in this development process, you will have our support collectively to address the needs and aspirations of the Gambian people," Balla stated.
He further assured the Gambian leader that as a Cabinet and as a people, they will support his endeavours through a common struggle for social justice for all Gambians.
Other speakers at the swearing in ceremony were the Vice President and Minister of Women Affairs, Isatou Njie-Saidy, Secretary General and Head of the Civil Service Dr Njogu Bah, who is also the Minister of Presidential Affairs, and the ministers of Basic and Secondary Education and the Interior, Fatou Lamin Faye and Ousman Sonko respectively.
Meanwhile, one Professor James Ndow, a Gambian-born professor of Urological Surgery and director of the Internationally-recognised centre at the University of Aberdeen, Scotland, UK yesterday called on President Jammeh at State House.
Professor Ndow said he was at State House to talk to the Gambian leader about a hospital he wanted to establish in the country.
Read Other Articles In Article (Archive)