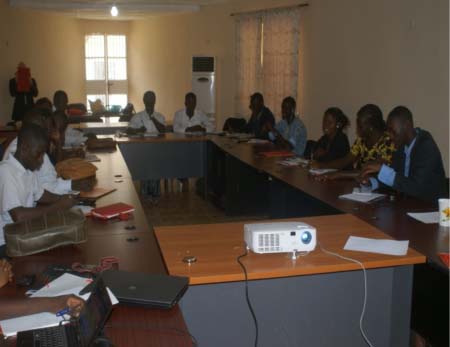 The Gambia Press Union (GPU) Thursday held a three-day training workshop on communication rights for media practitioners at the GTMI school hall.
The training course that brought together media practitioners from both the print and electronic media, and was aimed at improving the ability of the journalists to report on complex issues relating to communication rights and the core values of democracy in a professional, ethical and constructive manner.
Gibairu Janneh, GPU Secretary General, said this was one of the training sessions the GPU is organizing for the journalists to enable them do their job effectively, and equipped them with requisite skills.
He said that the training courses would expose journalists to communication rights and skills relating to the inflow and outflow of communication.
"Every human being has a right to be heard in this 21st century, since the media speaks to the people and also gives a voice to the voiceless," he said.
Media communication is vital and nobody is perfect, but with training one's capacity could be improved, he continued, adding that as long as the GPU is alive they would continue to train journalists, and he urged the participants to make best use of the training courses and the knowledge gained.
Sang Mendy, speaking on the ethics of the profession, said as a journalist you need to know how to report, you need to know the language and the reporting skills and you need to seek the truth.
He said as a journalist you don't lie and you should be able to defend your story, adding that journalists need to respect people's privacy and to be fair and they should not entertain intimidation when reporting.
He also emphasized the need to give a voice to the voiceless, and t hold the powerful accountable, adding that the truth is what they are looking for because at the end when the story is out, they should stand up to defend it.
Read Other Articles In Article (Archive)