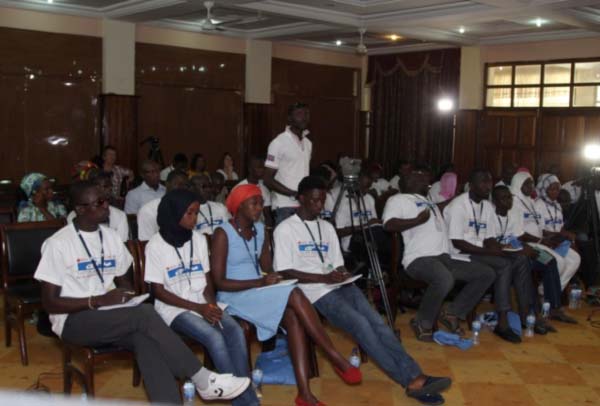 Journalists from various media houses across The Gambia have declared an all-out war against Female Genital Mutilation (FGM) using their respective medium.
The declaration was made at the end of a weeklong training session, dubbed 'End FGM Media Academy', organised by Safe Hands for Girls and the Guardian newspaper at a hotel in Kololi.
The programme brought together media practitioners and activists from across the country to better equip them with the tools, knowledge and strategies in the fight against the harmful traditional practice.
During the weeklong training course, journalists and activists took turns to denounce the practice and promised to launch a war against FGM.
Their declaration was prompted by a video they watched, in which a baby was crying in the hands of an old woman who was using a blade on her.
The cries of the innocent, helpless baby and the action of that sharp blade used on her forced tears out of many journalists, particularly the males, who vowed to advocate against the practice.
Sainey Dibba from Farafenni Community Radio said he used to be the "Kankurang" (masquerade) that scares away the old women and people who are regarded as witches and wizards, when the initiates get sick in the circumcision chamber.
He promised that when he goes back, after being empowered with knowledge on the effects of FGM, he would embark on a sensitisation campaign against the practice, and also apologise to the old women.
Amadou O. Bah from Bwiam Community Radio said it was high time that the issue of FGM is brought to the media, particularly the community radios.
He said media advocacy can help put an end to "this brutal and inhuman way of torturing women and girls, all in the name of culture".
Modou Joof from Taranga FM Radio said Islam as a religion does not advocate for anything that harms human beings.
Therefore, he said, if FGM is part of the things that brings discomfort to human beings, it should be thrown away.
Musu Bakoto Sawo, a lawyer and activist, said FGM is a violation of women's human rights as it violates their right to health, and could deprive them of their right to life.
She said relying on the provisions of the Children's Act and Women's Act, there is a likelihood of succeeding legally in court for a pronouncement against FGM.
Fatoumatta Simaha-Ceesay from GRTS TV said there is nothing "more painful" than seeing a baby crying, because she is being tortured in the name of FGM.
Sarjo Camara, also a journalist, called on her colleagues to give FGM stories a human interest dimension that would touch the heart of readers, and make them understand the harmful effects of the practice.
Muhammed A.H Bah, an activist, said after watching such a brutal act being performed on a child, it was enough for them to act now and put an end to the practice.
He said his wife had undergone FGM, but their children "would never undergo such a brutal practice".
Several other journalists all denounced the practice, and called for more human interest stories, radio talk shows and TV documentaries depicting the horrific nature of FGM.
Read Other Articles In Article (Archive)