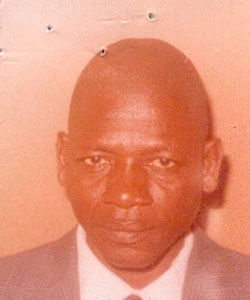 It is another July, since July 2006 when Chief Ebrima Manneh was said to have been arrested and reported missing. He wrote for Daily Observer at the time of his purported arrest and disappearance. He is gone without any trace of him leaving his old age mother and father in a state of stress and confusion as to whether their son is alive or dead. "Since my son's disappearance it's tears and sleepless nights, I am not who I use to be," said Sula Ceesay Chief's mother. In tears she said, "could someone somewhere help release my son, he has suffered enough." Manneh is in his thirties and not married, which shows how young he is.
Lamin Manneh, Chief's elder brother said, "we are so confused that we do not know what to do now. As far as the family is concerned we blame the former Managing Director of Daily Observer Dr. Sajar Taal for his arrest and disappearance." He called on government to do something about his brother. Chief was the only breadwinner at the time of his arrest. The family paid homage to former staff member Pa Ousman Darboe for speaking out the truth.
How could such a thing as this happen in a small country like ours? It's anybody's guess. As far as the rest of us are concerned Manneh is not one of the critical journalists. He is one of a non-controversial writers and until his return from Ghana, where he did his course in journalism, he was a general reporter who wrote on all issues. When he returned from Ghana Manneh ran a column called Crime Watch. This again was not a controversial column. What most media organisations and friends ask is why his disappearance then?
Before Manneh's arrest and disappearance, this is the circumstances under which the media and its workers went about their job as journalists. First it was arson attacks, on individuals and media organisations. Media houses were burnt down in some cases to an extent that the equipment was irreparable.
Radio One FM was one of the media houses attacked and this came at a time when that radio was doing very productive civic programmes. The attack almost crippled the radio as it instilled fear in the journalists who conducted the programmes. In the same vein the Independent newspaper offices were burnt, including the printing machines. Journalist Ebrima Sillah of the BBC was also attacked. He almost lost his life. Then came December 16 2004, when Deyda Hydara the editor and publisher of The Point newspaper was shot and killed by unknown assailants.
Ramatoulie Charreh also got attacked by the police in broad daylight as a group of journalists wanted to visit the site where Deyda Hydara was shot and killed.
It was against such a background that Chief Ebrima Manneh of a pro- government newspaper the Daily Observer was arrested on 11 July 2007. We have learned from the proceedings of an ECOWAS court in Abuja that he was arrested by state security on that fateful day, a fact denied by the state from day one.
The big question is who is then holding him after two years this month (July 2008)? Is it the state or ordinary criminals and for what? This stalemate must not and cannot be allowed to continue in a free and democratic country. It is the duty of any responsible government to take it upon itself and look for such a missing person and produce him, if that government is to be seen as a democratic one and one that stands to protect the rights and security of its subjects such as Manneh. Where such a government cannot guarantee the security of people within their jurisdiction then people have all rights to say, that government has failed in the execution of the most important duty one can ever think of.
We the group of people who call ourselves journalists are the most endangered species as per the lecture delivered by Pa Louis Thomasi of the Africa Office of International Federation of Journalists (IFJ) at the maiden edition of the Deyda Hydara lecture series, May 3 2008 Alliance Franco Gambien kanifing along the Kairaba Avenue, marking the launch of a book entitled A Living Mirror. He told a large audience that in the old days, it was often stated Report and be Damned. However, in this present and complex milieu, this humble adage has been converted to Report and be Murdered, by individuals and syndicates who want to force the media down on its knees; individuals whose intentions are to dismember the media and financially bury it in an unmarked grave.
This son of The Gambia, who is serving in that important office of IFJ, say in most cases, individuals, business enterprises and governments have tried to bribe journalists who possess valuable information. Where this has failed, gruesome criminal activities such as murder, arson attacks, and torture into submission, disappearances, arbitrary arrest and in-communicado detention have been employed by powers that be in order to silence journalists who are bent on voicing the truth.
Here if one pauses a little and asks this question, Does it mean that chief Ebrima Manneh is one of that endangered species called a journalist in possession of valuable information which he vowed to publish no matter what? Has he refused bribes and then like those in Louis lecture been forced into disappearance? Well no one has established any fact so far, since the man in question is not accessible.
Is he alive or dead is another fact yet to established? From an earlier alert from the IFJ African office some months back they did say according to their sources Manneh is not alive. What others think about such an assertion?
The family of Manneh said they have been in tears all these years and God knows how much pain they have under gone now. "It will not be easy for anybody to feel the way we are unless they go through such difficult moments," said the ailing old mother of Chief Ebrima Manneh. "Imagine your son going missing for two years. We have lost all hope, we only hope and pray that one day we will set our eyes on him," she said. Other members looked on with sadness as the old woman in tears spoke to me; the occasion was like a funeral ceremony.
In a telephone interview with Sam Sarr, editor of Foroyaa newspaper, when he was asked what his opinion is about whether Manneh is alive or dead, said, "I cannot ascertain that." He opined that one cannot say whether he is dead or alive, however he said, "Government need to issue a statement concerning him, they have never gone beyond saying he is not with them. They have not been to the ECOWAS courts, which they should have at least done to show respect. The court have now taken a decision and yet they [the government] are silent, they should show respect by saying something. They have to say something and do something as a government."
The President of the Gambia Press Union (GPU), Nedey Tapha Sosseh, said, "it is unfortunate that in a country like Gambia somebody can disappear like this and nothing comes out of it." The GPU boss said, "with the developments at the ECOWAS courts ordering the production of Ebrima Mannah by the Gambian government the fact that there is still no response to such a call, is really unfortunate."
The GPU and other international bodies have raised concern about the case but nobody seems to care. "We at the GPU condemn the act and call on whoever is holding him to release him as soon as possible," she concluded.
A spokesperson for The Network of Human Right Journalists (Gambia) said their concern is to see him released. The issue of such detention is one of a colonial Act. "We would like him to be brought to court if the people holding him think they have a case against him. Whatever the law says let that be. In the event he is sent to jail friends and family members can have access to him. Gambia being a founding father of ECOWAS she should respect the ruling of ECOWAS community court. The Gambian government should bear in mind, that we host the African Center for Democracy and Human Rights Studies, as well as the African Commission, also African Institute for Human Right Development in Africa," the spokesperson stated.
This is what journalists in The Gambia today are facing. It is either one is facing trials, arrest or detentions, for no other course but because we happen to be one of that endangered species called a journalist.
Where ever you are my dear colleague, our hearts are with you in unison. Like others I also wish to add my voice to the call that Manneh will walk out a free man for the good of our dear country. It is not doing any good to anyone keeping Manneh longer than these years.
Read Other Articles In Article (Archive)