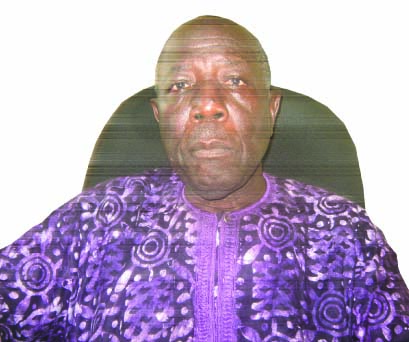 Mr John P. Bojang, Chairman of the National Council for Civic Education (NCCE), has stressed the need for the youth to take part in the political process of the country, to take up the leadership as future leaders.
"If the youth of this country are not involved in the political process at their youthful age, then it will be very difficult for them to make a right choice when the time is due," Bojang said, while challenging them to be prepared to take up the leadership of this country as their destiny.
The NCCE chairman was speaking in an exclusive interview with this reporter Thursday on NCCE's plans and preparations in the build up to the forthcoming presidential, parliamentary and local government elections. He said it is a constitutional right given to the youth.
According to chairman Bojang, election is all about making choice, but if the people are not well-informed to get convinced, it will be difficult for them to make the right choice. "There has never been a permanent right choice. Society is dynamic. What you choose today, and feel that it is the right choice, in the next moment you find a different horizon, and think that you have not made the right choice," he said.
The NCCE chairman called on Gambians to take more interest in elections, no matter their profession or positions. This, he added, does not necessarily mean going on political campaigns, but getting registered and to make a choice by voting.
"The NCCE is basically responsible for informing, educating and raising the awareness of the people on their civic rights, duties and obligations in nation-building, including voting; to help them make a judicious judgement in selecting a candidate that they feel in the public interest is going to deliver as expected of him or her after the election," Bojang further stated.
In his view, there must be a leader in every group of living beings, because progress is unavoidable. "Whatever anybody does, you have to move forward. And a nation comprising of people, need to be organised in terms of its choices, governance, development, and cooperation," he said, noting that if there is no collective choice, it will be difficult to bring about all the important things that a nation deserves.
He added: "It would have been the best if we all shared the same views and choice, but human beings are very complicated; we see things from diverse perspectives, and the only solution to us finding a common ground is to find where the majority is inclined."
This, he stated, is where elections are legitimate, and unless people know this, they cannot choose. "People have to know what they are choosing, and why they are choosing. If they choose, what is their obligation and that of those who have been chosen; how much can all of them work together collectively for the common progress and survival of all?" he further noted.
The NCCE boss also stated that there will always be controversy, if the people do not know and a collective choice is taken. He noted that this is why everybody should make it a national, collective, personal and community duty to ensure that we all take part in making a choice.
"There is no other democratic system that can ensure people choose things collectively other than elections," he opined, noting that this is where patriotism begins.
"If you are a patriot, then make a choice. It is not about talking loud, or causing chaos and riots, but by simply registering and making a choice through the ballot box," Bojang added.
For him, it is good that people are educated and well-informed for them to be well-directed.
He noted: "Human beings need to be informed, need to know and if they are not educated, of course, they will act and they will act with chaos. And wherever ignorance prevails, then chaos prevails and, with chaos, there will be no progress or development."
He expressed the NCCE's resolve to avoid such, and ensure that the country is peaceful, by educating the masses.
?This is what the NCCE stands for,? he added. Bojang was, however, quick to state that this cannot happen without adequate funds to facilitate the services of the NCCE.
"We need adequate funds to facilitate the services. We need transportation, fuel, and some money to ensure that those who are involved in the process also survive. The budgetary allocation for the NCCE is not enough for its services," he stated, while noting that the NCCE is not a time bound organisation.
Bojang underscored the importance of the press in educating voters to make a choice. "The press is everywhere. Your work is very important, especially in educating people on the importance of voting to make a choice. You can positively hold politicians accountable to serve the people, and report back to them for the good of the nation," he said, concluding that the NCCE needs the services of the press in nation-building.
Read Other Articles In Article (Archive)