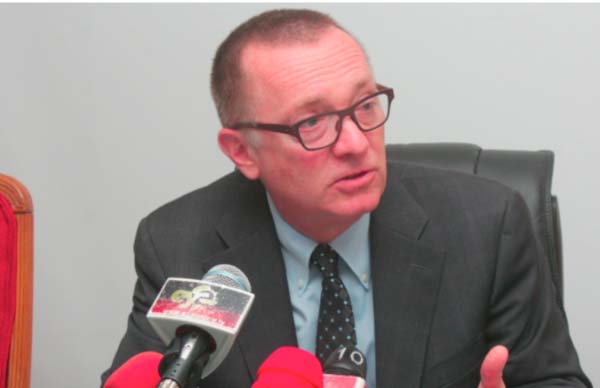 The United Nations Under-Secretary General for Political Affairs, Jeffrey Feltman, has said The Gambia is admired for its peaceful transition of power.

He made this remark during a press briefing held at the Kairaba Beach Hotel on Wednesday, after a closed-door meeting with President Adama Barrow.
Jeffrey Feltman was accompanied by the UN Special envoy for West Africa, Mohammed Ibn Chambas, and UN Resident Coordinator in The Gambia Ade Mamonyane Lekoetje.
The UN Under-Secretary General added that the UN really admired The Gambia for the peaceful transition that just took place in the country just after three months.
The civil society, the people and the political leaders of the various parties deserved credit for promoting a peaceful transition of power.
"We have a lot of admiration for what have been achieved here in The Gambia, because we held a meeting with president of The Gambia, where I was able to express on behalf of the Secretary General of the United Nations ¬(UN) our appreciation and commitment to the people and Government of The Gambia in moving forward."
He stated that the parliamentary election is fast approaching, and they had the opportunity of meeting with the chairman of the Independent Electoral Commission (IEC), as well as members of his delegation.
At that meeting, he reiterated the UN's support for the electoral process.
He also talked about human rights issues and the Judiciary with President Adama Barrow after 22 years of one party rule.
They also "discussed how the government will be moving ahead, among other things, and how to maintain the conversation with civil society so that the Gambian people will feel that their views are reflected in decisions and to understand whether their votes are put into actions."
They are encouraged by what they have been seeing and hearing, and they want to be supportive of that and partner with The Gambia in that process, he added.
The UN would be guided by what the government wants them to do, he continued.
It was left to the Gambia government to decide on how to be guided in terms of donor coordination, and the UN would help in that area, he further stated.
Read Other Articles In Article (Archive)