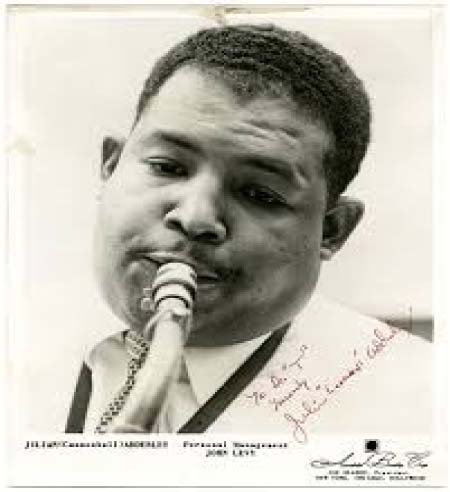 It is said that the piano is the fundamental instrument of jazz; however, it is also evident that as jazz music evolved the significance of other musical instruments became noticeable and the musicians who played those instruments became very influential, thus highlighting the popularity of those instruments while reshaping the music. One such instrument is the saxophone. It is played by some of the leading figures in jazz and those who play the instrument are called saxophonists.

The saxophone is a transposing musical instrument that is a member of the woodwind family. It was invented in 1846 by a Belgian instrument maker-Adolph Sax, who was also a clarinetist and a flutist. It became very popular in military bands, but would later be associated with Popular music, Big Band music, Blues, early Rock and Roll and particularly jazz. Jazz saxophonists play various types of the instrument,-the Tenor, Alto and Soprano each with its own distinct sound and technique. The technique and instrumentation of the saxophone evolved in the 20th century and was influenced by the movements of musicians who became sub-genres and had among them some very influential and powerful saxophone players who would go on to reshape the music.
In the 1930's, during the swing and big band era, saxophonists like Johnny Hodges who played with the Duke Ellington band were featured in a soloist role with a highly structured system of playing where such moments were rare and there was limited periods of musical freedom. In the 1940's, saxophonists such as Charlie Parker led a rebellion against the structures of big band, shifting jazz away from danceable popular music towards a more challenging 'musicians' music that would be called Bebop with solos that were more distinct and free. As the use of the saxophone became more popular, John Coltrane and others broke new ground in jazz, infusing their music with Rhythm and Blues styles and gospel influences as part of the hard bop sub-genre.
In the 1950's and 60's, free jazz pioneers such as Ornette Coleman developed unusual new sounds and playing styles, and in the 70's a blending of rock and jazz appeared with saxophonist Wayne Shorter at the forefront of that movement. In the 80's another new brand of jazz again emerged and was called smooth jazz. It was a more radio friendly style of fusion, and was led by Kenny G and David Sandburn. Another saxophonist who was around at the same time but did not receive much attention as his counterparts is Cannonball Adderly.
His birth name is Julian Edwin Adderly. He was born in Tampa, Florida on September 15th 1928.
He was a jazz alto saxophonist who played during the hard bop era, but was also known for the blending of blues and R&B into his playing style. He was an educator and a musician, but was long established as a school teacher before becoming known for playing the saxophone. He taught music classes at Dilliard High School in Fort Lauderdale, Florida, before moving to Tallahassee with his parents who were lecturers at Florida A&M University. While leaving in Tallahassee, Adderly met Ray Charles and together with his brother Nat Adderly, they played with Ray Charles and became a local sensation until he moved to New York City in 1955. It was in New York where Adderly's prolific career began. It all happened by chance, as he visited the Café Bohemia one evening carrying his saxophone, and when the saxophone player for the band that evening was late, Cannonball was asked to sit in. He soared through the changes and impressed the band leader-Oscar Pettiford who gave him a chance to play in the weeks that followed.
In 1957, he formed his own band with his own brother Nat who is a cornet player and signed with the Savoy jazz label. He was noticed by Miles Davis for his blues rooted saxophone playing style and was invited to join Miles's sextet. He stayed with Miles for a short period and was part of the band that recorded Miles's records-"Milestones" and 'Kind of Blue'. While playing with Miles, he met pianist Bill Evans and developed a strong association with him, which led to their collaboration to record two albums-'Portrait of Cannonball' and 'Know what I mean'. He never strayed from his interest as an educator and in 1961 he narrated and released 'The Child's Introduction to Jazz' on Riverside records. He was still playing with Miles while trying to work with his Quintet with his brother Nat. However, this was a difficult task and it was only after leaving Mile's group that he was able to maintain a steady band, a sextet with such noted musicians as pianists Bobby Timmons, Joe Zawinul, George Duke and Bill Evans; bassists Ray Brown, Sam Jones, Walter Broker and Victor Gaskin; drummers Louis Hayes and Roy McCurdy and also with saxophonist Charles Lloyd and Yusef Lateef. This sextet was very popular in the 60's and was able to achieve crossover success with pop audiences without making any significant artistic concessions.
By the end of the 1960's, Adderly's playing style began to reflect the influences of the electric jazz Avant Garde that had touched him while working with Miles Davis.
In 1968, he released the album 'Accent of Africa' and in 1970 another album entitled 'The Price You Got to Pay to Be Free'. In both albums he began doubling on the soprano saxophone displaying the influence of John Coltrane and Wayne Shorter. In the same year, he appeared at the Monterey Jazz Festival in California. In 1975 he appeared in an acting role in the T.V. series Kung Fu and performed the song 'The Battle Hymn'. Songs made famous by Adderly and his band include 'This Here' written by Bobby Timmons, 'The Jive Samba' a work song written by Nat Adderly, 'Mercy, Mercy, Mercy' and 'Walk Tall' by Joe Zawinul.
His musical career was short lived and in 1975 he died of a stroke in Gary, Indiana. He was buried in his hometown of Tallahassee, Florida and later that year, he was inducted into the Down Beat Jazz Hall of Fame.
This article is dedicated to the late Ali Harb (Alberr) of the I Fang Bondi Band. He was a great musician, a wonderful saxophonist with a sweet voice.
Read Other Articles In Article (Archive)