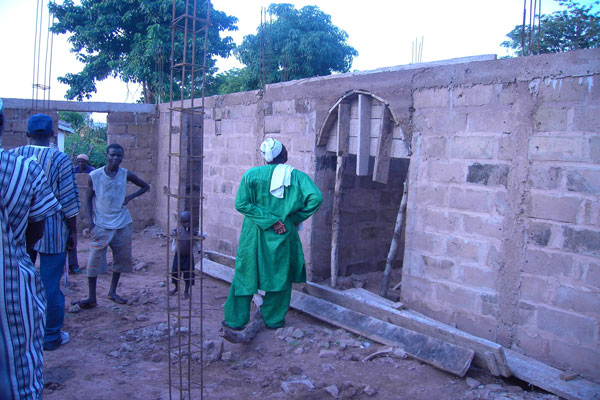 The people of Mbamori Kunda in Lower Baddibu, North Bank Region (NBR) will in a few weeks time inaugurate a new mosque for the village thanks to Hon. Ablie Suku Singhateh, National Assembly Member of the area.
The construction of the mosque, fully sponsored by Hon. Singhateh, who also doubles as the APRC Desk Officer in the North Bank Region has been described as a welcome gesture by the people of the area who commended Hon. Singhateh for his foresight and patriotism.
In a recent tour that covered the entire length and breadth of the North Bank Region in a bid to assess the level of work being done on farms cultivated for President Jammeh, the APRC delegation led by Hon. Singhateh arrived at Mbamori Kunda amidst a rousing welcome.
The people of Mbamori Kunda and its surrounding villages came out in their multitudes, singing and drumming much to the delight of guests. At the mosque, currently under construction, Hon. Singhateh, who is also an ECOWAS parliamentarian, commended President Jammeh for putting the development of the North Bank Region high on his list of priorities.
According to Hon. Singhateh, fondly called 'Baddibu Mansa', the construction of the mosque came as a result of an appeal by the villagers for a mosque to be built for them as they trek kilometres to the access mosque in the nearby village. He commended President Jammeh for the support and assured him of his people's support at all times.
According to the ECOWAS parliamentarian, the determination and the energy, commitment and loyalty shown by the people of North Bank Region to rally behind President Jammeh in grand-style could be justified by the 'limitless development' that the President and his party have brought and continue to bring to their living-rooms.
He urged the people of North Bank to always rally behind President Jammeh for he will always be there for the people of not only the region but also the entire population.
"We are so impressed with the level of development in their region over the last 14 years that we're poised to give the President our fullest support at all times. No body will go and leave the people of North Bank behind. We will always be with President Jammeh all the way," Hon. Singhateh noted.
Read Other Articles In Article (Archive)