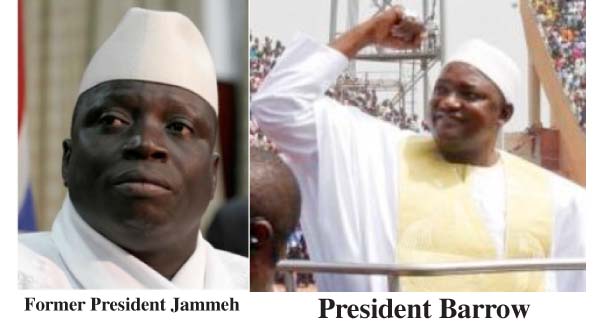 The government of President Adama Barrow has frozen all the known assets of former president Yahya Jammeh in The Gambia while investigations continues outside Gambia to know what and where he owns for further action.

"We have obtained a court order freezing the known assets in the country of the former President Yahya Jammeh or companies directly associated with him," Justice Minister Aboubacarr Tambedou said yesterday.
The minister told journalists at a press briefing at his ministry in Banjul that the freezing order affects 131 landed properties held in the personal name of Mr Jammeh or companies or organisations directly associated with him.
It also affects 86 different bank accounts held in the personal names of Yahya Jammeh or companies associated with him, as well as 14 companies and a number of livestock purportedly belonging to the former president who had suddenly risen from poverty to be among the riches in Africa.
"The application for the freezing order was necessitated by the discovery of unauthorised withdrawals of millions of dalasis and foreign currencies by former President Yahya Jammeh from the Central Bank [of The Gambia] and other state corporations," the justice minister said.
"Preliminary investigations have reveal that between 2006 and 2017, Yahya Jammeh personally or under his instruction directed the unlawful withdrawal of at least D189 million from funds belonging to Social Security and Housing Finance Corporation."
The minister said the indications are that the discoveries are a tip of the iceberg, saying "this list is by no means exhaustive".
"We request anyone with information to come forward and share this information to the nearest police station," Mr Tambedou said.
Read Other Articles In Article (Archive)