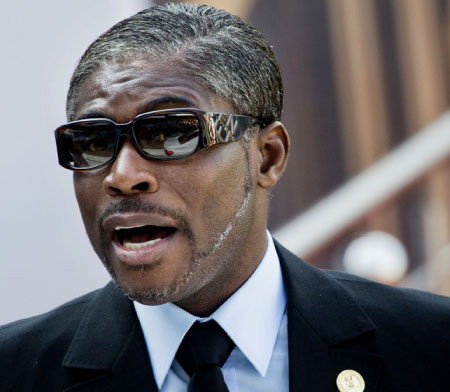 Teodorin Nguema Obiang, the son of Equatorial Guinea's president, Obiang Nguema Mbasogo, who is also Yahya Jammeh's host, has received a 3-year jail term and handed a 30 million euro fine by a court in Paris, France.

The accused who is also the vice president (VP), was accused of not only "persistent human right violations" but also "looting the government's coffers with impunity."
Teodorin was earlier convicted in 2017 of ''theft and embezzlement'' but vowed to appeal before French Justice. Subsequently, he was eventually issued the suspended 3-year jail term for misusing public fund for an ''ostentatious and flamboyant'' lifestyle across Europe.
Following the first ''ill-gotten wealth'' trial, the Paris Court this time round went afar the conviction that was handed down at the first instance and subsequently delivered a heavier conviction.
It could also be recalled that the Criminal Court had enforced the same prison sentence but also deferred the fine even though the amount reportedly stolen in France trial alone amounted to 150 million euros.
Teodorin, who was promoted by his father in an attempt to succeed him and publicly criticized by his opponents had failed to appear during both trials despite threat to recover all his 'properties'.
Prosecutors and human rights activists who vowed to ''stop the looting and violations'' asked the court to seize all the ''stolen possessions'' and the court did exactly that.
Right groups across Europe also maintained that while his people are still living in "poverty and malnutrition," Yahya Jammeh's host engaged in "incredible extravagance."
Equally the International Community is worried that President Obiang who has ruled his country with an ''iron fist'' for 40 years and constantly being accused of rampant corruption, torture and extrajudicial killings may eventually drive the county into turmoil.
The court also uncovered that Obiang did not only unlawfully purchase several expensive sport cars as well as Michael Jackson's memorabilia, but he also owned numerous mansions across Europe.
Yahya's host who came to power in a military coup overthrew his uncle in a bloody rebellion in 1979. He has accused his opponents of trying to ''undemocratically'' chase him out of office.
Read Other Articles In Article (Archive)