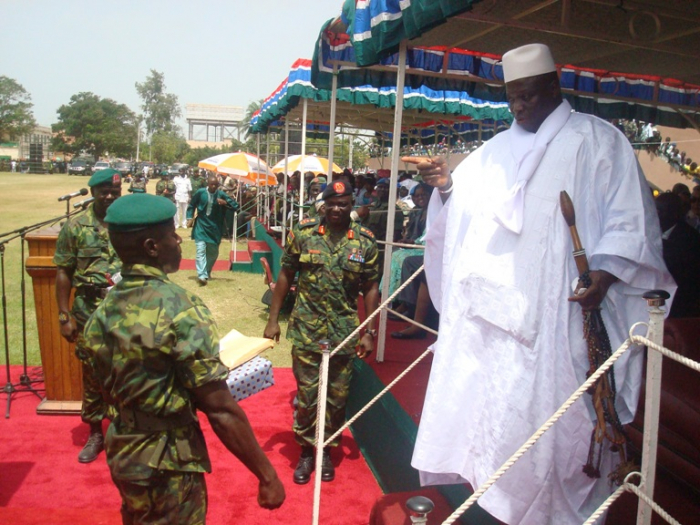 President Yahya Jammeh has warned that anyone caught involved in drug trafficking would be sent to Mile 2 prison, no matter who is involved. Come what may, he said, he would make Gambia a drug free country.
"I will put a zero tolerance on drugs in the country. For young Gambians, it is better to drink palm wine than take drugs. I warn all Gambians not to engage in drug trafficking," he declared.
President Jammeh was speaking on the occasion of the passing-out parade of 1,445 recruits, which is recruit intake 30 of the armed forces, at July 22nd Square in Banjul.
He said that he has realised that some people think, being a drug trafficker, you should be in the military.
"If anyone is caught, you should book a place in Mile 2. I don't care who is involved in drugs, not even my uncle or my mother, 'Billahi Wallahi, Talai' I will deal with them," he stressed.
The President used the occasion to warn soldiers not to condone any drug dealing.
In the view of the Gambian leader, because of drugs there would always be corruption and violence.
"Drugs in any other form would not be tolerated. Drug traffickers are never at peace. This is a Muslim and Christian state; we don't want drugs," he said.
"If you are joining the military to deal in drugs, then the uniform is not for you. West Africa is becoming synonymous with drugs, but Gambia would be an exception. Look at Mexico, people are shot like dogs; do you want that here? No! Drugs is everybody's concern," he added.
President Jammeh said that in becoming a member of the armed forces, one is required to demonstrate a high sense of discipline, integrity, honesty and respect at all times, and to comport oneselves whether in uniform, on campus, and whether on duty or not.
He told the 1,445 passing out recruits that they have to be an example.
"The success of any force is discipline at all times, and it is a prerequisite. If you are not discipline as a soldier you will not be promoted, and you will end up going home," he warned.
"The reward of joining forces with other gallant men and women of the Gambia Armed Forces lies in the honour, dignity and pride associated with the profession, and the immeasurable satisfaction derived from the selfless service you would be rendering in defense of your country, and the protection of the lives and properties of our people."
Lt. General Masanneh Kinteh, the Chief of Defence Staff of the Gambia Armed Forces, in his speech said the world would never be at peace unless people have security.
He said in contributing their quota to national development, "the Gambia Armed Forces will not lose focus of its national security mission and objectives, and is fully cognizant of the contemporary security challenges facing the Gambia such as illicit drug trafficking, human trafficking, cross-border crimes, sabotage, espionage etc."
"We would not compromise on the execution of our constitutional roles," he said.
Advising the passing-out recruits, CDS Kinteh said: "You shall totally adhere and be committed to soldierly values of condor, commitment, loyalty and discipline imbued in you during your military training. The significance of these qualities cannot be over-emphasized as they form the pillars upon which our profession is built. Without these qualities, we cannot be professional soldiers," he said.
"Our loyalty, commitment and service to His Excellency the President and our commander-in-chief and by extension the Government of the Gambia is supreme, and would not be compromised at all," he stressed.
He added: "Furthermore, you must at all times seek to enhance the cordial civil-military relationship, as well as the brotherly relationship that exits between the armed forces all other security services of the Gambia during the course of the execution of your duties. You must not, under any circumstances, harass or abuse the rights of your own citizens, whom you are paid and have pledged to protect."
"Furthermore, under no circumstances, and I repeat, under no circumstances, must you be engaged in extortion, narco-trafficking, stealing, rape and any form of unconstitutional and criminal activities."
"These are not only unethical practices unbecoming of a professional soldier, but erodes the very core of our existence and the good record of our armed forces which we built overtime," he said.
"Any culprits will not only be dismissed from the armed forces, but will face the brunt of the law," he warned.
Read Other Articles In Article (Archive)