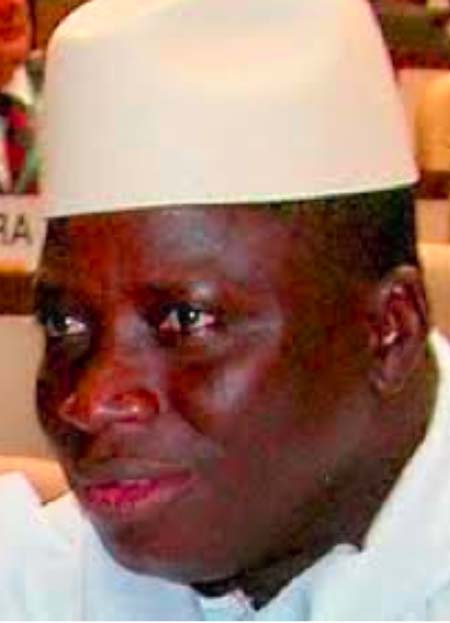 President Yahya Jammeh has reiterated the commitment of his government to transforming The Gambia into an ultra moderncountry.
The President made this statement in his speech delivered at the weekend to mark Eid-ul-Adha, commonly known as Tobaski in The Gambia.
'We will never relent in our commitment to transform The Gambia into an ultra modern country, and that being the case I hereby continue to enjoin all Gambians to be geared towards that direction,' President Jammeh said.
President Jammeh called on people in the country to remain steadfast and hardworking, especially as the nation strives to attain food self-sufficiency.
'In this regard, I will reiterate my call for Gambians, especially the youth, to embrace agriculture, honesty and hard work since these are the surest ways of attaining genuine independence, self reliance and national dignity,' he said.
'I believe we are on course to achieving our national development objectives under Vision 2016 and Vision 2020. In this connection, I reaffirm our commitment to eradicating poverty in this country. But I count on all Gambians to desist from the easy tendency of embracing "self inflicted poverty" whereby one sits idly by hoping that good fortune would descend from the heavens without using one's God-given talent and energy to work and improve one's livelihood.
'What we need today is the change of attitude from complacent and dependent mindsets to more forward-looking and achievement-oriented dispositions.'
The President said people in The Gambia are grateful to the Almighty Allah for the peace ad tranquility that prevails in the country, 'a divine gift we must at all times endeavour to jealously protect and defend as we strive for greater prosperity for all Gambians.'
The President also highlighted some of the achievements of his government in the last 20 years, since he took up leadership of the Gambia on 22 July 1994.
He said: 'This year's Tobaski feast is taking place at a time when we are on the verge of celebrating the 20th anniversary of the glorious July 22nd Revolution.
'The twenty years of our Revolution have been momentous for the Gambia. During this period there have been remarkable and indeed unprecedented achievements in the country in all fields of endeavour.
'We have made significant progress both in the productive sector and social sectors, particularly in education, health, agriculture and public infrastructure.
'These achievements have permeated all levels of society and have brought progress and security to Gambians and non-Gambians resident in the country.
'I extend my thanks and felicitation to all those Patriotic Gambians and true friends of the Gambia who have made these historic achievements possible.'
President Jammeh also commended Gambians for being true Muslims and religious tolerant.
He reminded the nation of the essence and true meaning of Eid-ul-Adha, saying respect for authority, love, sharing and being good to one another are some of the symbols of submission and obedience to Allah's command.
He also shared the agony and pain victims of dreadful deadly diseases like Ebola and war-stricken countries the world over are undergoing. 
EndFragment
Read Other Articles In Article (Archive)