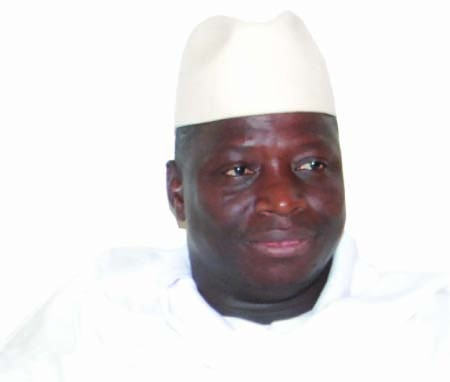 President Yahya Jammeh Friday secured a new five-year term after the Independent Electoral Commission declared him winner of 24th November 2011 presidential election.
Results announced by the returning officer and Chairman of the Independent Electoral Commission, Mustapha L. Carayol, showed Jammeh polled 72% of the total votes cas,t while main opposition leader Ousainou Darboe polled 17%.
Independent candidate Hamat Bah scored 11% of the total votes cast.
Voter turnout was 83%, showing a massive jump from that of the 2006 elections, which was about 59%.
According to the IEC chairman, out of a total number of 796, 929 voters, Hamat Bah polled 73, 060 votes, Ousainou Darboe 114, 177 votes while President Yahya Jammeh polled 470, 550 votes.
Jammeh's victory, seen by many as a foregone conclusion, was also described as historic in the country's politics, as Jammeh won with a landslide in all the 48 constituencies across the country.
"Having received 470, 550 votes, which represents 72% of the total votes cast in the election, I hereby declare Sheikh Professor Alhagie Dr Yahya A.J.J Jammeh duly elected to serve as President of the Republic of the Gambia," Carayol declared Friday afternoon shortly after announcing the results.
President Jammeh, 46, has won three consecutive past elections. In 1996, he polled 220,011 (55.7%); in 2001 he polled 242,302 votes (52.96%); and in 2006 he swept the polls winning 67.33% of the total votes cast.
This time around, Jammeh won with a bigger mandate, shifting from his 67.33% of votes cast in 2006 to 72% in 2011.
Jammeh attended Gambia High School in Banjul and passed the GCE 'O' Level Exams.
He joined the former Gambia National Gendarmerie Corps in 1984, and was among the national gendarmerie corps incorporated into the Gambia Army in 1991, after the institution was abolished.
He did military training in the USA from September 1993 to January 1994. After leading a coup in July 1994, and few weeks before the 1996 elections, he retired from the army as colonel to join the political race. Since 1996, he has received several awards up to now.
Speaking to thousands of jubilant APRC party supporters, who gathered in Banjul for the victory celebrations, President Jammeh commended all Gambians, friends of The Gambia and all those who wish this country well.
He told party supporters that whether today or up to the year 2100, nobody is going to spoil the peace and stability in this country.
"As you celebrate, don't allow yourselves to be provoked, don't get into violence. If you are provoked, just go to the security forces, they know what to do," he said.
"As Gambians, you have spoken; you have exercised your constitutional rights. Those who have chosen the wrong path have lost; those who have chosen the correct path have won. The majority has won and we will not allow a minority to threaten the peace and stability of this country. We are not going to compromise on peace and stability," Jammeh added.
Jammeh went further to pledge that he would turn this country into a superpower of peace, an economic superpower, noting that five years from now, people will be talking about The Gambia and not Dubai or United Arab Emirates.
"I pledge to give you, in four years, the highest standard of living not in Africa, but in the world. By the grace of the Almighty Allah, we can," he said.
While calling on all and sundry to work together, Jammeh noted that at the end of the day, "we are all Gambians".
"We do not hate anybody; we love this country and we would prefer that those who have lost should come and we work as Gambians. At the end of the day, only we the Gambian people can make this country a better country," Jammeh told his jubilant supporters.
Read Other Articles In Article (Archive)