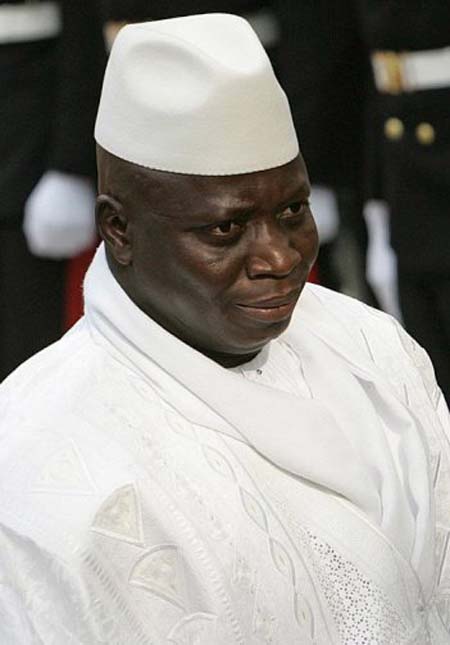 President Yahya Jammeh has pardoned 85 prisoners in respect of the month of Ramadan, according to a statement aired by the state TV at the weekend.
The statement said the prisoners were released "to foster their rehabilitation into self-reliant and law-abiding citizens".
The following is the full statement of the prisoners pardoned and their names:
His Excellency the President of the Republic of The Gambia, Sheikh Professor Ahagie Dr Yahya A.A.J. Jammeh Babili Mansa, acting in accordance with Section (82) of the 1997 constitution of The Gambia has with effect from Friday July 3rd 2015 pardoned 85 prisoners.
Most of those released are in their youth, hence His Excellency's intent to foster their rehabilitation into self-reliant and law-abiding citizens.
His Excellency the President's decision is taken within the context of the Islamic spirit of mercy and forgiveness during the holy month of Ramadan.
The spirit of liberty and freedom that underlines the 50th Anniversary of the Gambian independence from colonial rule as an expression of gratitude for Allah's blessing , guiding and protection on the occasion of His Excellency's 50th birthday.
The prisoners pardoned include Alpha Mohamed Ndure, Sarjo Saidy, Momodou Njie, Baba Sey, Andrew Freeman, Bubaccar Joof, Amadou Dem, Ebrima Sorrie, Mohammed Sillah, Fatou Manneh, Alieu Jammeh, Malang Sanyang, Lamin Ceesay 2, Ebrima Bah, Ebrima Tambedou, Lamin Dibba, Alieu Gibba, Momodou Saidou Bah, Abdou Wahett Jallow, Kalilou Bah, Momodou Jallow 4, Louis Francisco Sanneh, Ebrima Jawara, Sumai Kanteh, Omar Khan, Abdoulie Ceesay, Karim Krubally, Alieu Jawo, Demba Baldeh, Mohammed Sanneh, Falou Faal, Babuccar Ceesay, Gibril Bojang, Musa Jawo, Mbye Joe, Modou Camara 2, Mohammed Ceesay, Gibril Bah, Foday Njie, Modibou Conteh, Ebrima Ceesay 2, Ebrima Bun Sanneh, Sirajo Bah Jallow, Salifu Joof, Haruna Sankareh, Sarjo Jallow, Cherno Alieu Suwareh, Modou Gaye, Babucarr Drammeh, Momodou Bah, Abdourahman Saho, Thomas Jatta, Omar Ndure, Wuri Bah, Gibril Krubally, Pape Jeng, Alieu Jallow, Lamin Njie 3, Lamin Saidy, Musa Joof Faal, Lama Jallow, Ebrima Cham, Pa Jaiteh, Galajo Jallow, Emos Ekupala, Alasan Saho, Mohammed Darboe, Amadou Nying, Essa Njie, Alhagie Jatta, Alpha Jallow 1, Ismaila Conteh, Ousman Jallow, Habibou Camara, Ebrima Sarr, Alhagie Huma, Buba Joof, Assan Waggeh, Samba Jamanka, Sulayman Sey, Sulayman Sillah, Omar Manneh, Hassim Jarju, and Hamadi Sowe. 
Read Other Articles In Article (Archive)