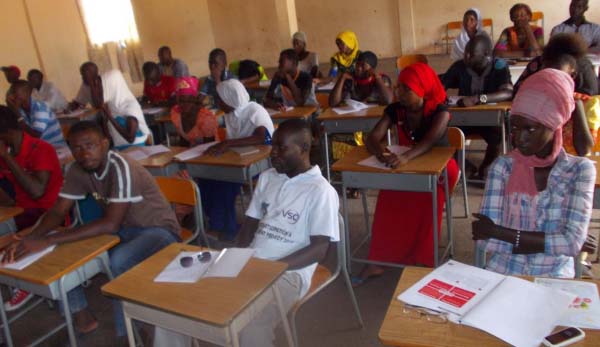 ACTIVISTA, a youth network of Action Aid International The Gambia, in partnership with the Agency for Development of Women and Children (ADWAC), recently organised a three-day training on leadership for youth in North Bank Region.
Held in Kerewan, NBR, the training mainly focused on modules such as campaigning, advocacy and networking.
Karamo K. Kinteh, education project officer of ADWAC, said the training was meant to build a network of youth who can advocate, campaign and influence policies to improve the lives of youth.
Modou E. Jasseh, chairperson of NBR ACTIVISTA chapter, said the leadership training would enhance the capacity of members on campaigning and advocacy, and networking.
Recently, the chapter held a three-day advocacy on illegal migration, women representation at district tribunal court, illegal logging, and women access and control over productive land in Upper Niumi.
Safiatou Bobb, national trainer and coordinator of ACTIVISTA, said the training would strengthen school network, community youth network and youth leaders to be more responsive to the emerging issues of youth to bring about meaningful participation in decision-making process.
She said the training would build good relationship between youth and some relevant institutions and communities to promote fair dispensation of resources to enhance youth participation.
Ms Bobb said the objective of ACTIVISTA is to engage young people to advocate and campaign – locally, regionally and globally – to influence policies and procedures that affect their lives as young people.
The organisation empowers youth to participate effectively in decision making and democratisation of their community and country at large.
Read Other Articles In Article (Archive)