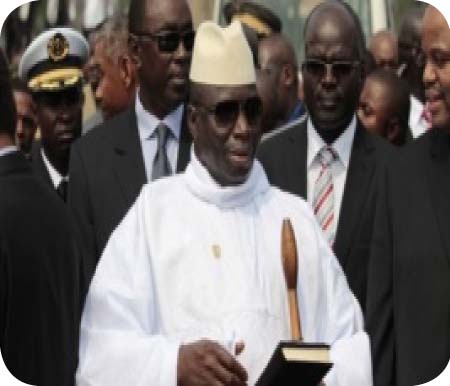 President Yahya Jammeh returned to Banjul Friday night from the African Union summit in Malabo, Equatorial Guinea, whose theme was: "Agricultural Production and Food Security."
"I'm very happy that everybody talked about what I've been saying over the years...There is a saying that necessity is the mother of invention. I think everybody has seen the need for food self-sufficiency in Africa", he declared on arrival at Banjul international airport.
Responding to reporters' questions, President Jammeh said the AU's focus on agriculture and food security was something that he has been advocating for the past 19 years.
He said when he led the successful coup in July 1994, they came to power advocating "self-reliance and going back to the land".
In any case, the global food crisis of recent few years has taught people a lesson, and was a wake-up call, he added.
President Jammeh went on to speak of the soaring cost of living in the country, with a bag of rice and drum of cooking oil, for example, beyond the reach of the average Gambian public sector workers, whose pay is comparatively low.
He said everybody has come to realise that dependence on imported foodstuff is not sustainable.
Moreover, "we are eating what we do not grow", and the consequence has been numerous "health problems", he pointed out.
"I think the whole African continent have realised this".
According to Jammeh, the African continent spends almost $5 billion annually on rice importation, when there are African countries with nine months of rainfall.
"So the bottom line is everybody has realised that agriculture is very important".
He said people have said his Vision 2016 is not attainable, but "Nigeria has now brought it down to Vision 2015".
Jammeh said his Vision 2016 is not about only growing enough rice in the country to stop the importation of the staple food.
"I'm talking about (growing) beans, maize, cassava and potatoes (most of which, he said, are now imported – when this was not so) and other food crops.
"We should balance our diet, by eating most of the cereals that we use to grow in this country..."
Regarding the AU summit's focus was on agriculture and food security, and asked what he thinks are some of the possible strategies for attaining the ultimate objective, Jammeh said the best strategy is to harness human resources.
"You cannot have agriculture without the human resources".
He said Gambians could attain his vision, by "working hard, growing what we eat and eat what we grow".
Read Other Articles In Article (Archive)