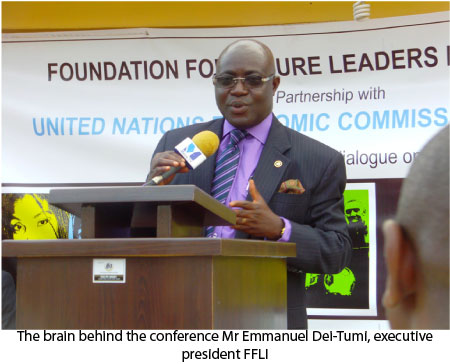 Participants at a two-day sub-regional conference on youth employment in West Africa have called on governments in the sub-region to foster cordial public-private partnerships in order to create more jobs for the region's unemployed youth.
The conference was held under the theme 'youth and employment - discussing the implementation of strategic policy frameworks on youth and employment in West Africa.
After two days of deliberations at the M Plaza Hotel in Accra, Ghana, over fifty participants drawn from seven countries in West Africa including The Gambia, challenged the governments in the ECOWAS sub-region to work closely with the private sector to reduce youth unemployment
They further challenged governments to create an environment conducive for the private sector, such as given them tax incentives to enable them grow well and employ more youths.
Participants also called for the involvement of the private sector in formulating policies relating to employment to have their input since they are the main employer in any country.
It was also agreed at the Ghana conference that the various governments in the sub-region should involve youth more at the designing, planning and implementation stages of programmes and policies affecting young people.
In his closing remarks, on behalf of UN Under-Secretary General Abdoulie Janneh, (a Gambian), UNECA executive secretary Emile Ahohe of the sub-regional UNECA office director, thanked the participants for making the event successful.
He assured the Foundation for Future Leader's International of his office continued support and partnership in their bid to addressing youth unemployment challenges in West Africa.
"It is my expectation to see the young people rise to the highest level in entrepreneurship," he said, "The danger at youthful age is to be discouraged; so please never be discouraged no matter what circumstances might be."
He challenged youth in the sub-region to acquire more skills that are relevant to their environments; skills which when used would make them and their families happy.
For her part, Esther Cobbah, chairperson of National Youth Authority of Ghana (National Youth Council), said: "It's exciting for me to see that most participants here are young people."
She urged the participants to share the knowledge acquired in Ghana conference with their peers in their respective countries.
She challenged youth in the sub-region to confront their issues themselves by leading.
Speaking earlier, Emmanuel Dei-Tumi, executive president of Foundation for Future Leader's International, thanked all those who made the dialogue a great success.
He implored on youth to do away with the dependency syndrome and start depending on themselves and to maintain peace in the sub-region.
"Do not allow selfish politicians to use you to destroy your countries what you yourselves have worked for and developed," he stressed.
He however noted that the popular Arab spring should be an eye-opener for African governments to put youth on top of their agenda.
Mr Dei-Tumi applauded UNECA for sponsoring the two-day dialogue and for dispatching a high-power delegation from the sub-regional office led by its director to the event.
The conference was organised by the Foundation for Future Leaders International (FFLI) and the United Nations Economic Commission for Africa (UNECA).
It was attended by various youth development stakeholders including the youth themselves, entrepreneurs from the private sector, experts, government officials, academia and policymakers who brainstormed on providing a strategy for addressing youth unemployment in West Africa.
The sub-regional consultative meeting ended with a renewed call from youth for governments in the sub-region to seriously engage the private sector in their respective countries for greater economic growth in West Africa.
They also called for the establishment of non-partisan national enterprise development funds, to support entrepreneurship, ICT and innovation, and ensuring that private sector channel their corporate social responsibility schemes more on youth employment initiatives.
Read Other Articles In Article (Archive)